Polish pierogi
Pierogi recipes
Tips&tricks
In U.S.
11 facts

11 interesting facts about Polish pierogi
---
by
Mat
on May 14, 2010
Who made the largest pierogi ever and who established a Guinness record in making it the fastest? Where's the statue of pierogi? What is pierogarnia and lazy pierogi? How should we say: pierogi or pierogies?… Here comes the list of 11 most interesting facts about Polish pierogi. Enjoy! ;)
1 • Pierogi or pierogies?
A word pierogies is popular in U.S. and Canada because it underlines a 'plurality' of this well-known Polish food. However, as I have already mentioned somewhere on Tasting Poland, this is not so appropriate since in fact a mere word 'pierogi' is already plural in Polish language! Its grammatical singular equivalent 'pieróg' is never used by Polish people. Simply, it has a completely different meaning. Pierog, translated into English language: pyrih, is an Ukrainian pie shown on the picture below. This food can be sweet when filled with curd cheese or apples, and savory when stuffed with potatoes, cheese, groats, meat or cabbage. Sounds yummy :)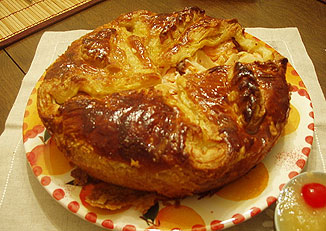 photo from Wikipedia
2 • What Russians do with pierogi?
Russians are really nice people with a great creativity, so funny things happen our there. Thanks to those guys we known that pierogi are not suitable for smuggling drugs. Indeed. Imagine a Russian woman from Krasnodar Krai who spent some time in hospital after she had eaten pierogi filled with hashish! You won't find any recipe for this kind of filling on Tasting Poland ;) Later it was proven that pierogi had been prepared by a drug dealer who wanted his acquaintances to smuggle it to Petersburg. And Grandma living with these people helped herself to pierogi in secret, not having the slightest inkling of the filling. Moreover, she had managed to regale a dog with one and he fell into a coma for all day long. What dreams he must have had!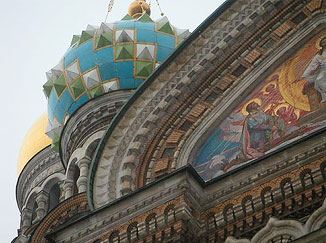 photo by *saxon*
3 • Pierogarnia in Poland
When you visit Poland remember that in many Polish towns you can come across some Polish restaurants called Pierogarnia. These are places designed to offer pierogi in dozens tastes. This is a great thing for every tourist going to Poland. Most of pierogarnia also sell other popular Polish food as you can see on the photo at right. It shows a typical menu from one of pierogarnias in Krakow. Notice low prices: 1 zloty is about 3 dollars.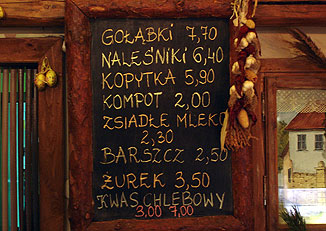 photo by Karmor
4 • Refined Polish tasters
I would do a lot for pierogi. But some Poles from beautiful Rzeszow city in eastern Poland (photo) surpassed themselves. In 2006 two guys raided a pierogarnia in Rzeszow. One of assailants had taken a handgun out and demanded a plateful of pierogi from a shop assistant. She did what they wanted, therefore men started to demand money. A brave woman reacted firmly and shouted that she is going to call police. As befits brave assailants that was enough to make them escape with no money at all. Not so bad, since still with a serving tray full of pierogi! Police officers found culprits after an hour. 25 and 23 years old guys were already full up and… drunk. Were they an ordinary thugs? Actually, they must have been refined tasters!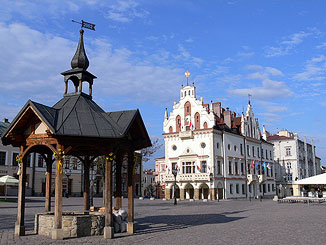 photo by Thomas N.
5 • Ruskie or Polish pierogi?
Ruskie pierogi, these with potatoe + cheese + onion filling, are very well-known traditional Polish food. Ruskie does not mean 'Russian', rather 'ruthenian' if we want to be precise. Ruskie pierogi come from the prewar Poland's region called Red Ruthenia. Today it lies within borders of Ukraine. What is interesting, while Poles use a name 'ruthenian pierogi', on the eastern side of the Polish border some Ukrainians call the same type of food a 'Polish pierogi'.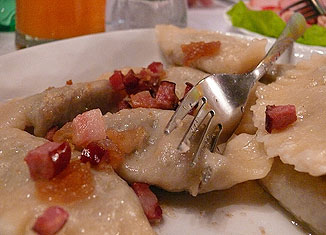 photo by nozoomii
6 • The Pierogi Race
Pittsburgh Pirates baseball team organizes the so-called 'pierogi race' during their games. Four types of pierogi called Sauerkraut Saul, Cheese Chester, Jalapeno Hannah and Oliver Onion take part. Well, these are four guys dressed up as pierogi. I have no idea if it looks appetizing? :) Probably it's funny. For sure it's a marketing campaign.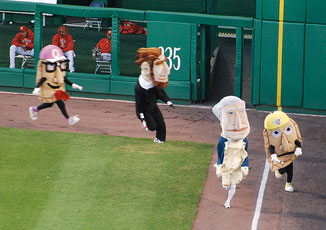 photo by afagen
7 • Pierogi and Polish pierożki
An interesting fact about Polish language is that most of Polish nouns have a diminutive form and an appropriate hypocorism. Most of Polish diminutives mean a thing smaller than the base word. For example simple Polish word dom (house and home) has both a diminutive form domek (small house) and a hypocorism domeczek (emotional). This is very often that diminutive and hypocorism have a positive, emotional inclination (there are some, however, that mean a contempt). A word pierogi is not an exception. A diminutive form of pierogi is a bit more difficult to pronounce and looks like this: pierożki /pιeroζkι/. You can use it in order to express your admiration for the taste of this Polish food ;) The singular form also exists: pierożek /pιeroζɛk/, to denote the one, particular pierogi.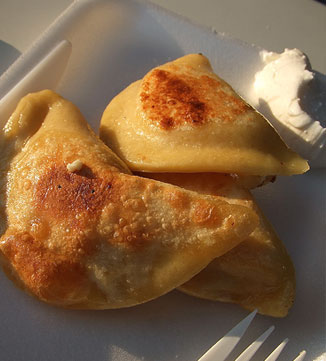 photo by Kodamakitty
8 • Pierogi statue in Glendon
A small village Glendon, Alberta, Canada unveiled its roadside tribute to Ukrainian pyrogy in 1991. They had even appointed an Official Pyrogy Committee. Glendon's pyrogy is a huge statue of one pierogi put on the fork. The plaque states as follows: THE PYROGY – PYROHY. BEST MADE IN GLENDON. A European food that was brought to Western Canada in the early 19th century by the working and poor people. It originated as a boiled dumpling, and later people added whatever they desired inside, and it became a pyrogy - pyrohy, sometimes called varenyky. Admittedly, an original idea :) Actually this statue is 25-foot height, weights 6000 pounds (!) and is made of fiberglass and steel. Rather not edible, I would say. But will lasts forever ;)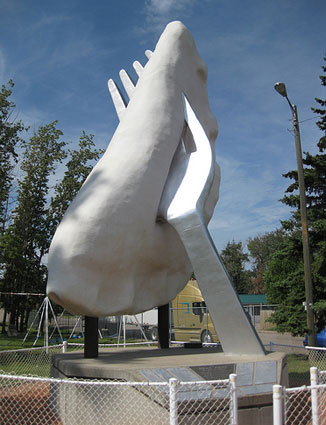 photo by Fracture
9 • The largest pierogi ever
Since Glendon's 6 000 pounds pierogi is not edible it cannot be considered a record - I'm sorry Canada. Probably the largest edible pierogi was made during Pierogi Fest in Whiting, Indiana. It was a 92-pounds huge pierogi.
Looks disgusting, isn't it? ;)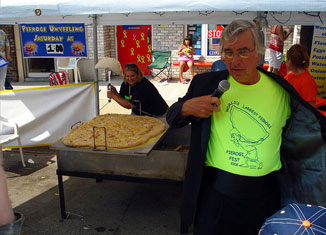 photo by JOE MARINARO
10 • Guinness record in making pierogi
The Guinness record in making pierogi belongs to ten students from a Catering School in Wroclaw, Poland. In 100 minutes they managed to make as many as 1663 dumplings! That was over 90 pounds. Great result has been officially written down in The Guinness Book of Records. After cooking and packing pierogi were sent to Wroclaw children's homes.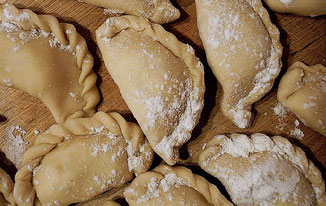 photo by wojciech.felendzer
11 • Lazy pierogi
Making pierogi is a bit time-consuming. Is it possible to easily combine the taste of pierogi dough and its filling? Well, yes it is. At least in case of sweet pierogi filled with curd cheese. Here comes lazy pierogi in Polish known as pierogi leniwe :) Lazy pierogi has quite the same shape as another Polish food called kopytka (nice, small dumplings) but this is something completely different. Pierogi leniwe are made from a curd cheese, eggs and flour, then cooked in lightly salted water. Most oftentimes lazy pierogi are dished up with whipped cream, sugar & cinnamon. Don't forget to try it :)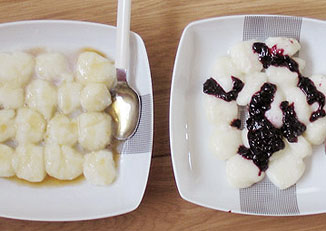 photo by Edwinek
Polish pierogi
Pierogi recipes
Tips&tricks
In U.S.
11 facts