Polish pierogi
Pierogi recipes
Tips&tricks
In U.S.
11 facts

Polish pierogi in United States
Few words about frozen pierogi
Pierogi in United States and Canada
Nowadays Polish pierogi are quite common in United States. Pierogi was imported to North America by Polish immigrants more than one hundred years ago. This Polish food is most known in Illinois, Pennsylvania, Indiana, Michigan, New York, Connecticut, Ohio, New Jersey, Massachusetts and Wisconsin and in Canadian Manitoba, Saskatchewan, Alberta, British Columbia, Ontario. Outside North America Polish pierogi are best known in Ireland, United Kingdom, Germany, Australia and Netherlands. Ready-made frozen pierogi is available in some Polish food knowing countries in the world. Since United States, Canada or United Kingdom are among them, you can find frozen Polish pierogi in a grocery store or some Polish deli.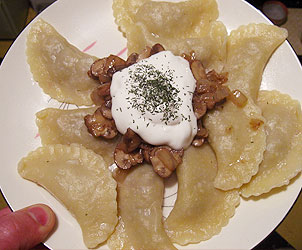 photo by poetas
As far as I know in U.S. ruskie pierogi (aka ruthenian), those with potato-cheese-onion filling, are especially popular. It is only one of many original kinds of Polish pierogi, not at all most popular in Poland. So I would venture to say that someone who ate only ruthenian pierogi do not even know what pierogi exactly is! Believe me, pierogi with potato and cheese filling have as many supporters, as adversaries. Here is some demonstrative picture to let you know about absolutely basic kinds of Polish pierogi:
Most traditional Polish pierogi fillings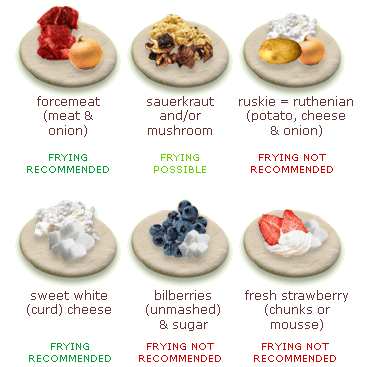 The popularity of ruskie pierogi can be explained by the fact, that a lot of ready-made, frozen pierogi is a ruskie type (potato & cheese). But let me be a bit brutal once more and say, that who ate exclusively frozen pierogi purchased in grocery or Polish deli loses a lot.
Few words about ready-made, frozen pierogi
In a previous part of this article I've mentioned few advantages of pierogies, thanks to which it is worthwhile learning how to make Polish pierogi on your own, at home. To sum up what I have wrote there: (1) quite simple preparation (pierogi dough requires experience but you will become an expert more quickly than you think), (2) it is a very cheap food, (3) it can be frozen for a long time, (4) it is a universal dish - you can put inside many things you like.

Some stuff to buy ;)
Frozing home-made pierogi is a piece of cake and food will keep its great taste. Incomparable with ready-made, frozen pierogi. I should emphasize that pierogi made by industrial machines are far, far away from original, traditional Polish pierogi. Usually the taste of the dough is not so bad, although it is not like it should be. Industrial dough has simply less delicate, gentle taste. In few worst cases I have tried, it tasted like a flour. It is always to thick (on purpose). Moreover, most often frying ready-made pierogi is troublesome, since dough is prone to break down and becomes unappealing.
However, what is much more disappointing is the filling. Its taste is completely incomparable to what you can achieve at home. As I think this does not require any explanation. Would you expect, that a little-known company producing pierogi in the mass scale, uses best quality products to make the filling? The truth is that when you buy frozen pierogi with forcemeat, you eat grinded animal parts, which otherwise you would never swallow. Is it possible in your country (or even in Eastern Europe) to buy strawberry pierogi stuffed with chunks of strawberry rather than a mousse? No. Mousse is omnipotent, since this makes using a worse grade strawberries possible.
As they say frozen food is for people. Really, I think many times it's great. And honestly - I buy it from time to time. But whenever I have some time and a willingness, I make Polish pierogi at my own.
Just one more thing. In Poland - where the marketplace of pierogi is surely bigger than in the United States, or Canada, frozen pierogi are available in many varieties, but as far as I know frozen pierogi are not highly popular. I have been told that - for example - Polish lady of the house would not venture to serve frozen pierogi during Christmas Eve dinner. And this is not only because it would be at variance with the amazing Polish tradition, which forces Polish people to devote so much time for festive food preparation. I am quite sure, that this is because of the impoverished taste of frozen pierogi, what does not fit their taste.
Pierogi festival
In some cities, where the community of Poles was at one time notable pierogi fests are being organized. Probably the best known is Pierogi Fest in Whiting, Indiana, www.pierogifest.net. This year's fest will be held on July 23, 24, & 25. It will be the 16th annual Pierogi Festival. In Pittsburgh, Pennsylvania there is a so-called Great Pierogi Race during every Pittsburgh Pirates baseball game. In Poland annual pierogi fests are organized in Cracow (Festiwal Pierogow) and in Gdansk (Pierogi Fest).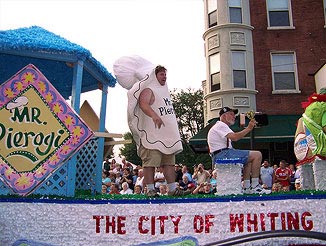 Pierogi Fest in Whiting, Indiana
photo by anneh632
The Pierogi Fest is an annual festival held in downtown Whiting, Indiana. Although it gets its name from the pierogi, a Polish dumpling, there are many other attractions. It lasts for 3 days on Friday, Saturday, and Sunday during late July. Although one of the main attractions is pierogi, there are many other things to do at Pierogi Fest. The main attraction is walking up and down the street tasting food from the many different food vendors, listening to live bands playing, visiting the beer garden, or riding some carnival rides. Pierogi fest at Wikipedia
Polish pierogi
Pierogi recipes
Tips&tricks
In U.S.
11 facts