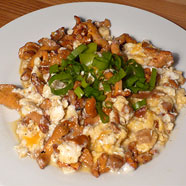 Ingredients in this recipe:
300 g of chanterelle mushrooms
8 eggs
some butter or lard for frying
salt and pepper to taste
chives
bread or roll
Time required: 30 minutes
Makes about: 2 decent portions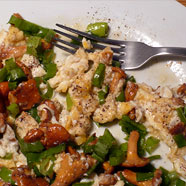 Recipe:
1 Precisely wash 300 g of chanterelle mushrooms. Cut bottom parts of stem if dirty.
2 Throw it all onto frying pan and gently heat to remowe excess of water.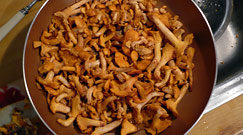 3 After few minutes, when mushrooms are no longer wet, add some butter or lard and gently fry (I do prefer lard, see photo below). I usually fry chanterelle mushrooms for 15 minutes. During that time it becomes golden. Such mushroom is a bit gristly, what I actually like :) If you fry a bit longer, chanterelle becomes brown and has more 'meaty' consistency.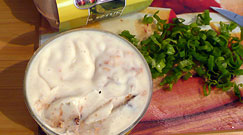 4 Add 8 eggs and fry.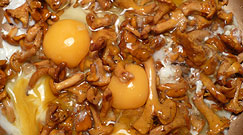 5 Add salt and black pepper to taste.
6 Sprinkle or mix with chives. Serve with bread or rolls.
I hope that you find this scrambled eggs with chanterelle mushrooms recipe useful. Enjoy your meal! Smacznego! :)