Polish broth - rosol, chicken soup for Sunday dinners
Polish broth is not-thickened (unlike the majority of other soups) soup made of chicken, on meat-vegetable stock; sometimes with addition of beef. Rosol is served with the pasta of the tagliatelle type. In some households rosol is served with the home-made traditional polish pasta. Broth-rosol is certain of national Polish dishes. Soup originally rose as the effect of long-term cooking of meat which a long time ago was conserved by salting and drying. They called this stock rozsol, what meant 'make less salty', whence the today's polish name comes.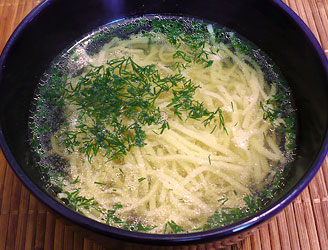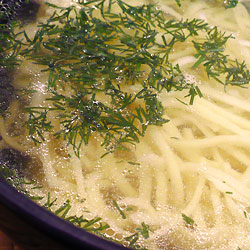 Polish broth is a dish which is being prepared relatively long. At first fowl along with the combination of vegetables known in Poland as 'wloszczyzna' is being cooked. In order to make tasty and thick polish broth one should begin cooking with cold water, slowly leading to boiling temperature. Such way of cooking makes the majority of ingredients of meat and vegetables to be extracted to stock, which after seasoning becomes a broth.
For a lot of years rosol was considered to be a kind of a noble soup and on account of the respect for the Lord's Day - Sunday, broth was traditionally served on that day in most Polish families. Today this tradition isn't already cultivated at all Polish homes, also because of the long time that the broth preparing requires.