Polish pierogi
Pierogi recipes
Tips&tricks
In U.S.
11 facts

Polish pierogi aka pierogies –
probably the most popular Polish food ever
An introduction to Polish pierogi
Pierogi aka pierogies is a delicious Polish food (correct Polish pronunciation: [pʲjɛˈrɔɟi]). There are few kinds of this food which differ in a filling (some authentic Polish recipes for pierogi are listed in a second part of this article: How to make pierogi?). Some of those pierogi types are traditionally Polish dumplings, but let me be honest - the diversity of pierogi fillings is only limited by your imagination.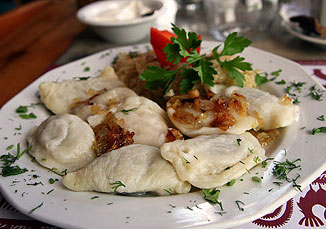 photo by guinn.anya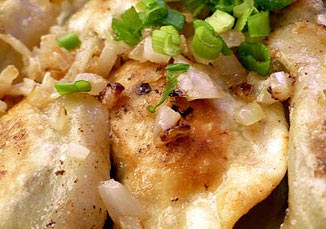 Pierogi with mushroom filling, fried
They say that the Chinese invented a lot of great things. Well, that must be true. But a homeland of pierogi is a certain of beautiful countries of the European Union - Poland, situated in the geographical center of Europe and on the eastern border the EU (map). Actually, pierogi is one of a national food in Poland. Considering a wonderful taste and versatility of this Polish food - not at all surprising, I would say.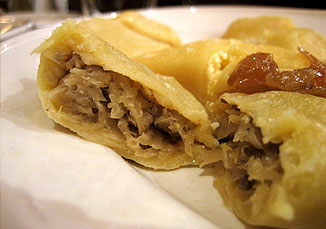 Pierogi with sauerkraut. Photo by roboppy.
Polish word pierogi is plural. Singular equivalent, pieróg is not used. It is so because of a size of the dumpling - pierogi is (are?) always served in the number larger than one piece. An English word 'pierogies' is supposed to underline the 'plurality', but such a form is rather inappropriate so I decided not to use it. Pierogi in other languages are also called perogi, perogy (in Canada), piroghi, pyrohy or Piroggen, and in various kinds and tastes are known in other kitchens of Central and Eastern Europe. A little similar food exists in Italy (ravioli, tortellini), Japan and China. Here is a list of traditional and modern Polish food prepared by Tasting Poland worth to read if you want to get to know some other tastes of the Polish cuisine.
Tastes and ingredients of Polish pierogi
Pierogies are made of a thinly rolled dough filled with various fillings. A large number of filling types makes this Polish food a snack, spicy first course or even a dessert. Originally, in Poland the most traditional filling are: forcemeat, sauerkraut and mushrooms. A vegetarian variant of pierogi made from mushrooms and a cabbage is dished up during the Christmas Eve dinner (according to the Polish tradition - food must be meatless that day). Other kind of pierogi, peculiarly popular in summer, is sweet pierogi. Seasonal fruits are used as a filling: mainly bilberries or strawberries. Pierogi filled with a specially prepared sweetened Polish curd cheese (called a white cheese by the Poles) is also very delicious and popular.
In many regions of Poland a so-called ruskie pierogi is well known (in English: potato & cheese pierogi or ruthenian pierogi; 'Russian' is incorrect!). The name does not indicate any Russian origin since such food is unknown in Russia. Ruskie pierogi comes from the prewar Poland's region called Red Ruthenia (today it is within a territory of Ukraine). A filling is made of cooked potatoes, a white cheese and stir-fried onion. Ruskie pierogi is probably the most popular kind of pierogi in North America. But it is important to underline that this is not the most popular in Poland, although very much liked.
Most traditional Polish pierogi fillings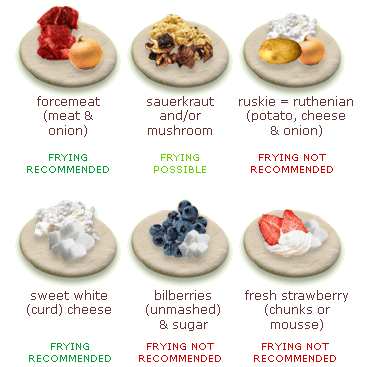 Of course there are also some peculiar kinds of a traditional Polish pierogi which have a character of a regional food. For example in Eastern Poland pierogi with a lentil are well-known. Locally, in region of Lublin town pierogi are filled with cheese, potatoes and dried mint what grants it to be slightly tang.
In Poland more popular are pierogi filled with ground meat, mushrooms and cabbage, or for dessert an assortment of fruits(various berries, with either strawberries or blueberries being most common). Pierogi are usually served with melted butter and sugar, or melted butter and bacon bits. Poles traditionally dish up two types of pierogi for Christmas Eve supper. One kind is filled with sauerkraut and dried mushrooms, another – small uszka filled only with dried wild mushrooms – are dished up in clear borscht. Pierogi at Wikipedia
Uszka — pierogi-like Polish dumplings
served with red borscht
Another traditional Polish stuffed dumplings, much smaller than pierogi, are known as uszka (this is quite similar to Italian ravioli). In Poland uszka are not recognized as a kind of pierogi. Word uszka means 'little ears'.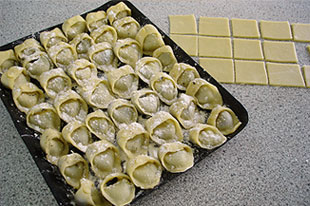 photo by Mrowka
Uszka are smaller, has more complicated shape, are usually filled with mushrooms or meat and never eaten on their own. This special kind of Polish food is dished up during Christmas Eve within a red beet clear borscht or a traditional dried mushroom borscht.
A bit of history of pierogi
How did the history of pierogi look like? There are some people who know the history of Eastern European food and believe that some kind of pierogi's prototype was imported from the Far East. Admittedly, going back a few hundred years ago we find information about quite a similar food being eaten in China. Well, so many wonderful things come from this country that one might think pierogi are not an exception. There may be a grain of truth in that. Some say that pierogies prototype had come from China and travelled to Italy thanks to expeditions of Marco Polo. However, a whole truth is not known.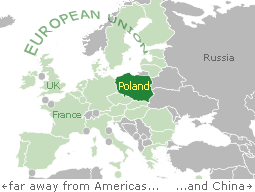 In Poland pierogi are made since the thirteenth century. For the first time a word pierogi appears in Polish literature in the second half of the 17th century - the time of some of the first Polish cookbooks being published. In this distant past pierogi was prepared exclusively on an occasion of holidays. What is interesting is a fact, that each holiday had its own kind of pierogi assigned.
Pierogi of a completely different shape and filling was served during Christmas Eve or Easter! Also some important events like a wedding were accompanied by a special kind of big pierogi. These wedding-time pierogi were called kurniki and filled traditionally with chicken meat. Knysze were made for a mourning and dished up during a wake. In January - a period of Christmas caroling - some special pierogi known as koladki was baked (!), while on an occasion of a name day a sweet kind of baked pierogi was served as a dessert (called sanieżki, socznie). Sadly, these intricate traditions are no longer cultivated in Poland. Probably they are not even known this days. I consider this a pity. But a variety of standard, modern Polish pierogi is so huge that, nevertheless, I believe we all should feel really satisfied :)
Polish pierogi
Pierogi recipes
Tips&tricks
In U.S.
11 facts