Bitter memories — 29th anniversary of introducing martial law in Poland
Martial law in Poland (Polish: Stan wojenny w Polsce, "the state of war") refers to the period of time from December 13, 1981 to July 22, 1983, when the authoritarian government of the People's Republic of Poland drastically restricted normal life by introducing martial law in an attempt to crush political opposition to it. Thousands of opposition activists were interned without charge and as many as 100 people were killed.[1] Although martial law was lifted in 1983, many of the political prisoners were not released until the general amnesty in 1986. from Wikipedia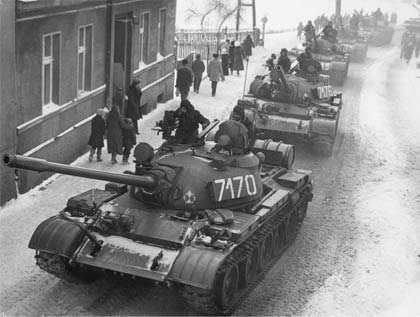 Wojciech Jaruzelski, commander-in-chief of the communist Polish People's Army, announces introduction on martial law in Poland. Sunday morning, December 13, 1981.
TRANSLATION: The atmosphere of endless conflict, misunderstanding, hatred sows mental havoc. The chaos and demoralization took the size of the disaster. History will judge our actions. We need to tie hands of troublemakers. The Council of State in accordance with the provisions of the Constitution, introduced martial law throughout the country, today at midnight. We are only a drop in the stream of Polish history. Polish-Soviet alliance is and will remain the cornerstone of the Polish raison d'etat. I appeal to you officers of Civic Militia and Security Service – guard the state from the enemy. The hour of ordeal has come.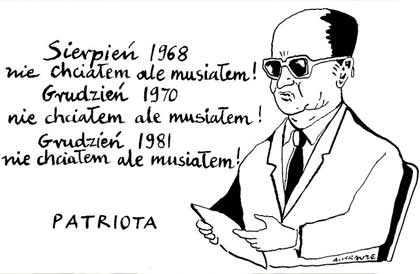 Link to photo gallery
Good photos from 1981-83 on dzis-nie-bija.org.