Authentic Polish Recipes — the best traditional collection online
Polish food has its admirers around the world. Now, using our Polish recipes collection, you can get to know how to prepare most of the characteristic and delicious meals of the Polish cuisine. Tasting Poland introduces a comprehensive set of authentic Polish recipes, which are very popular in Poland, and prepared on a common basis. You will learn how to prepare Polish foods in a quick and hassle-free manner.
Here, I made every effort to publish Polish recipes, that are explained in enough detail, since oftentimes the success of the food we prepare depends on the respective details. The majority of Polish food recipes on Tasting Poland is well-tried – these are reliable recipes I have tried myself, and they are based on authentic, original Polish cookbooks and culinary traditions. I genuinely hope that you will find helpful this authentic Polish recipe collection, and a true added value to the English-speaking Internet :) Good luck and Smacznego! (Article continues below).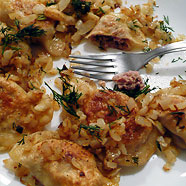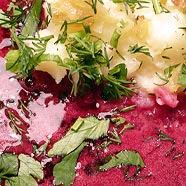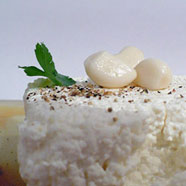 Polish food traditions
Traditional Polish cuisine is quite rich. Diversity and refinement are crucial, thanks to the culinary traditions of people living side by side for centuries: Jews, Ukrainians, Belarusians, Lithuanians and Ukrainians. The influence of Russia, Germany, Czech Republic and Austria should also be mentioned.
Within Polish cuisine, you can find specialties recognized around the world and Tasting Poland is here to let you know more about them and to discover Polish recipes. Let me introduce some basic Polish menus by describing how a typical Polish lunch looks like. So, traditionally Polish lunch/dinner, called in Polish 'obiad', is served at 2-3 p.m. in two servings. The first one is a Polish soup which usually is a:
A culmination of the late lunch is the "second course" (drugie danie). Actually, it is what is commonly understood as a first course (or main) in English, but Poles call it the second (the soup goes first). Polish recipes for first courses are listed in a table above, while a short list of some popular foods served as seconds is below:
Lunch usually ends with a Polish dessert. In Poland, homemade cakes are commonly served. Specialties worth a try are: yeast cake, makowiec (roll with poppy seeds and dried fruits), mazurek, ciders, piernik (ginger cake) and delicious Polish cheesecakes. For those who like to enjoy a special, gourmet taste, we suggest to try paczki (Polish donuts) filled with rose jam.
All Polish recipes here are written in a friendly way, so even people who usually do not like to cook, or who don't know how to cook, can easily prepare some Polish food. Most of the recipes are written for a family of four, but if double or triple the quantities per ingredient, you will get a recipe for a party.