Barycz River Valley & Milicz
02.11.2010
We look for beauty at the end of the world, we traverse thousands of kilometers and spend a fortune to admire the nature and rest from a hustle and bustle. Somethimes such beautiful, even if modest places are under our noses. Just like this little region of Greater Poland, called Barycz River Valley, together with its largest town: Milicz. Just an hour's drive from Wroclaw towards Poznan. A paradise for nature lovers.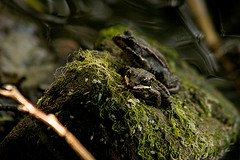 Within Barycz River Valley there is Poland's largest nature reserve, considered one of many world-scale most valuable ecosystems - Stawy Milickie (Milicz Ponds). Takes your breath away when standing on the causeway between lakes you see hundreds of wild geese and cranes taking off, and hear flutter of wings, powerful like a locomotive. White trees on Crane Island could be a part of the scenery for another movie right from the Tolkien world. Among ponds, that give this landscape an unique look, one can get relaxed and unwind from everyday affairs. Canoe Tourism is still poorly developed, but this in turn guarantees you solitude on the water trail and lack of wild and noisy crowds.
In the center of the region a town called Milicz is located. A magnificent palace surrounded by an old park, the ruins of a medieval castle, that once upon a time belonged to Wroclaw bishops and Olesnica princes, interesting churches, houses with a timber framing and rural cottages built of bog iron. In the 80' Milicz was one of the biggest producers of carp in Europe. This days private fisheries and agrotourism on the banks of ponds is a real paradise for anglers and fish connoisseurs.
based on text by Albin Marciniak / www.klubpodroznikow.com
go to see gallery of photos by Albin Marciniak
The Milicz Ponds are a series of small lakes in Lower Silesian Voivodeship, south-western Poland, in the valley of the river Barycz, close to the towns of Milicz and Zmigrod. There are approximately 100 ponds, with a total area of 77 square kilometres (30 sq mi). Due to their importance as a habitat and breeding ground for water birds, the ponds are the site of a nature reserve (established 1963, area 53 km2), which is protected under the Ramsar convention (one of 13 such sites in Poland). Since 1996 it has also formed part of the larger protected area known as Barycz Valley Landscape Park. (Wikipedia)