Fast-food in Poland: McDonald's & kebab
13.07.2010
On last Thursday Chinese office dealing with the food quality, said it is going to check McNuggets on account of suspicions that some dangerous chemical substances are used during production. Chinese media announced that American network was using oil-derived* chemical substances; for example to secrete a foam. These additions can cause a nausea, vomiting and the feeling of airlessness.
Chinese McDonalnd's spokeswoman, Vivian Zang, ensured that the company uses only a sparseness of preservatives contained in vegetable oil, which are - as she has said - omnipotent in all cooked food you can buy.
* (I should underline, however, that using the expression oil / petroleum-derived substance, just like Chinese media do, is a little bit misleading, since it suggest something awful, 100% synthetic and unnatural, especially in the light of food processing. In fact almost ALL chemical substances a chemical industry produces ARE petroleum-derived, because petroleum and natural gas are two raw materials for chemistry, actually. That means even medicines (synthetic) you buy in a pharmacy is also oil-derived)
When I had read the article about Chinese McDonald's yesterday, I thought that it was worthwhile to write how is it like in Poland. Please, imagine that at one time I have found on Digg.com (I like this website and often use:) a very interesting, positive comment by an American guy calling himself Frostek. He has, after a journey to Poland, commented on Poles attitude towards McDonald's in the following words (an accurate quotation):
In Poland, there wasn't much demand for McDonalds when I was there. Most of the people in there were tourists. And why? Because Polish food is so damn good; what good Polish mother would condemn her kids to eat that McDs slop? The only other reason I saw people go in there was to use the toilets. Sums it up really. Frostek @ Digg.com.
That's a lot of truth. In Poland, McDonald's in fact enjoys a considerable success, but mainly amongst young people (20-30 y.o.). It's quite hard to find an older person in this fast-food or to meet a whole family. Yet restaurants must be making good money - McD's has over 240 restaurants opened in Poland and employs over 20 thousand people. Prices aren't very high, but for sure McDonald's is not the cheapest food you can find while staying in PL. E.g. my favorite, plain, modest but often oversalted cheeseburger costs 3 zloty (about 1$), and a Big Mac 7.5 zloty (2.5$).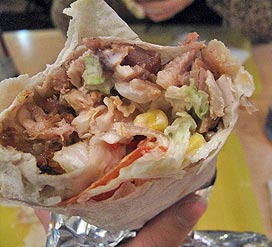 However, frankly speaking there are dozens of places where you can eat cheaper, still fast, and probably healthier. Poles love a simple fast-food called a 'doner kebab' - one of a traditional food of the Turkish cuisine, made of a big roll (or a thin crepe) stuffed with some grilled chicken (in Turkey it's usually mutton), vegetables (mainly white cabbage) and with some addition of sauces (delicate yoghurt-creamy sauce or a spicy red one). Kebab came to Poland probably from Germany, where it had enjoyed a great popularity. And so it is in Poland. These small kiosks with kebab, which has gained a good reputation, work at full speed from the morning till the night.
Personally, I'm a supporter of kebab ;) In my opinion, in terms of taste, price, as well as sustenance kebab is above Mc Donald's. I would like to say that nothing is threatening good, traditional, lightly stir-fried Polish pierogi with a cabbage and mushrooms (yummy!), but I have to tell you that on Polish streets there's literally no fast-food restaurants serving this Polish food (although it should be 'technically' as easy as serving kebab is).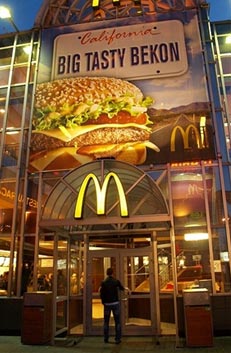 But, as you can guess, 240 Mc Donald's restaurants is not at all endangered by kebabs :) It is a curiosity that the first 'Polish' Mc Donald's restaurant was opened in June 1992 in the center of Warsaw - at the corner of Marshal's and Swietokrzyska streets. That is two and half a year after overthrowing the communism in Poland. Could you believe that on the day of opening the world record was established in the number of transactions? 45 thousand customers placed 13,304 orders! This world record remains unbeaten up till today. Is it good/fun/amusing or is it a reason for some sad reflections on the condition of contemporary residents of the capital city of Poland? I really don't know but what I believe is that this unprecedented fast-food rush was one of those ways where Poles, living in gray communist country for 50 years, manifested their longing for a 'western-style' life and a famous western freedom.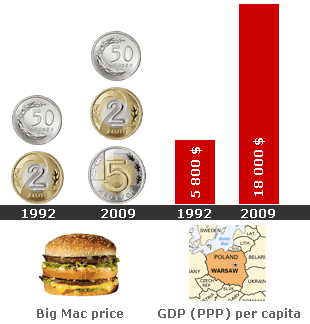 Today, 20 years after crucial times, everything went ahead so quickly that the country - at least in bigger towns, however in the province, to some extent also - changed beyond recognition. Today's Poland is a free country and just little from those unrestrained, enthusiastic emotions remained inside Polish mind, since things that have been a dream, now are a simple, not surprising reality. The curiosity is satisfied. And although Big Mac costs 3 times more today, a 'statistical' Pole can buy several times more Big Macs than in 1992. But there's no more such a rush as in that year ;) The same statistical Pole spends 3,4 times more money in restaurants and 3,2 times more in bars/cafe/pubs than in fast-food joints (source: Rynek Gastronomiczny w Polsce 2007 BROG Media Biznesu, Horizons for Success, GfK Polonia).