Nasza Klasa for sale for 180 million bucks?
27.10.2010
Nasza Klasa (Our Class) for sale for $ 180.000.000 - said American technology blog TechCrunch. So if you have savings on hand for just such a value, you may consider yourself to enter the Polish IT market. Will it be a wise investment?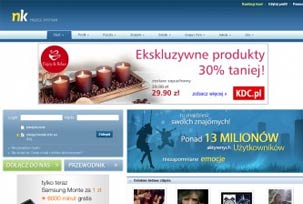 Nk.pl (formerly nasza-klasa.pl) is the most popular Polish community service, well known not only in Poland, but also among Polonia abroad. Its primary purpose was to enable users to find people from their school years and renew contacts. Nk.pl is the fifth most popular website in Poland according to Alexa data (after Google, Onet.pl, YouTube and Allegro.pl). In June 2010 on the site there were about 14 million active user accounts, however, 6% are considered fictitious.
Service was launched on November 11, 2006. Created by computer science student - Mateusz Popowicz. Years 2007-2008 was the climax, and nk.pl experienced a huge increase in popularity, and traditional media coverage. On January 2010, the site layout had a few small changes, the most important be the new logo and domain.
The nk.pl idea was modeled on Classmates.com (founded in 1995). Now, for many months nk.pl is losing popularity because of young Poles moving to Facebook. In order to save its position, nk.pl evolves in the same direction. For example, in 2010, games appear in the portal, and soon after groups. However, it appears that $ 180 million reported by TechCrunch is greatly exaggerated, especially in light of declining popularity and the utter lack of innovative ideas for its future development, that could stop the great escape of users.
By the way, representatives of nk.pl called TechCrunch news "just rumors". Well, interesting.