The brand-new center of Warsaw — plans, visions and dreams
17.07.2010
Warsaw is changing. I remember when I decided to settle here. It was almost 5 years ago. The city today is different, more tidy. Let me just mention so charming and well restored Krakowskie Przedmiescie street near Old Town (some photos of Krakowskie are already on the blog: read 'Warsaw by bike' post).
Today, with a pleasure I'd like to present you some images prepared by Municipal Office in Warsaw.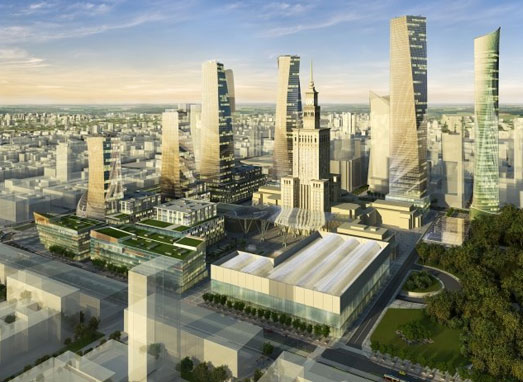 These are visualizations of current plans of the center of the city development. Looks good, so I wanted to share. This new plan assumes construction of five skyscrapers, something enigmatic called 'bicycle orangery' in Swietokrzyski Park, large square (agora) with fountains in front of Warsaw's Palace of Culture and Science, and some other stuff (what you see on images, however, is not an actual architectonic project of these skyscrapers, but just a image of plans of the development - these buildings can look different in the future).
It's clear that authorities want to somehow hide the huge, communist, shabby Palace of Culture and Science, behind the wall of modern architecture. And this one is a 'gift' from Russians which is stirring up controversy a lot, but… willy-nilly PC&S is a true symbol of the capital city.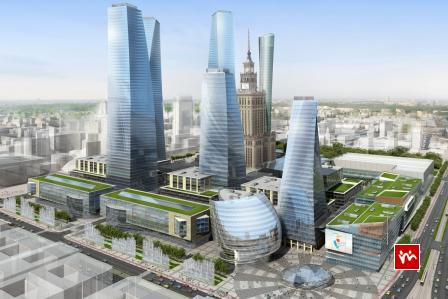 Along with the lane of big shops on Marszalkowska street, rebuild some time ago 'pasaz Wiecha' and along with the Museum of Modern Art (see below), this new centre of the capital city will finally become its hallmark and pride. This is how the Museum of Modern Art is going to look like:
So far however, surroundings of the Warsaw's Palace of Culture and Science is frightening with its asphalt pavements… For many years two huge and ugly market hangars stood – already & fortunately & finally demolished. Did not improve aesthetics at all just like the nearby Central Station, not-repaired for years. Bad view, let me admit, but everything is supposed to change.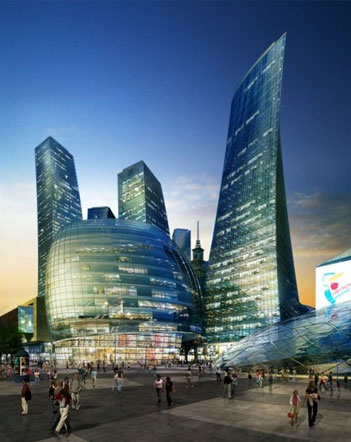 Since these things I've mentioned are not the only one wonderful plans, I will try to inform you from time to time about news. Both about other plans as well as investments that are already under the accomplishment – really quite a lot. After 90', a period of a certain impasse and time for kitschy skyscrapers – now Warsaw is gaining the real chic.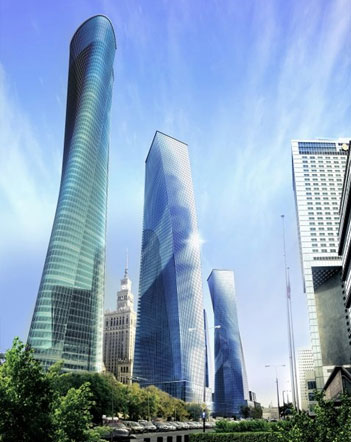 On the same time the city keeps its 'green city' character. Still full of trees and parks (just try to find some 'bird eye' photo if you don't believe). It is worthwhile knowing that Warsaw is one of few capital cities which didn't regulate the river. The Vistula river is flowing naturally and authorities took care only of flood safety barriers. The left bank of the Vistula is concreted and constitutes one from the most of stomping grounds of cyclists and strollers. The right edge of Vistula is left self-set. Now this area is being protected by the European law, and few beaches located among bushes and trees attract those willing to tan in the summer.
If only the Vistula was a clean river :) Eh!