Kanal Audytywny — best new Polish music videos #03
22.06.2010
Kanal Audytywny (Auditive Channel) is a Polish musical project combining such kinds of music as nu jazz, trip-hop and hip hop. The band was created in 2002 in Wroclaw. Two most important man behind the project are: a vocalist and a musical producer Lukasz 'L.U.C' Rostkowski and Bartlomiej 'Spaso' Spasowski, who's also responsible for a production of their albums.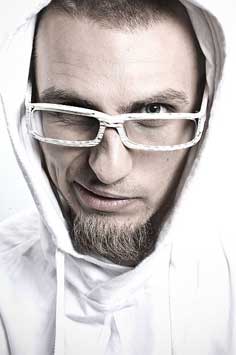 Probably the best and simultaneously most popular in Poland album was 'Neurofotoreceptoreplotyka Jako Magia Bytu' (well, let's translate it nonbindingly into 'Neurophotoreceptoreplotics as Magic of Existence'). Album had been published in 2005 and got a nomination up to the most notable award of the Polish records industry – Fryderyk 2005. Soon then the team had suspended its activity and the leader, L.U.C. has started a solo career.
For the first time Kanal Audytywny gave a concert in Wroclaw, 12 May 2003. From the very beginning their performances were full of spontaneity and improvisation. Different musicians from entire Poland were invited to take part in the concerts. Both beginners, as well as very much known (e.g. jazz pianist Leszek Mozdzer). Kanal Audytywny appeared in some 'strange' places, and their concerts were oftentimes turned into artistic performances. The band quickly gained a circle of faithful fans, people with an out of the ordinary musical taste and inclination for eclectic electronic sounds.
Discography
LP: Spasoasekuracja (2003)
LP: Plyta Skirtotymiczna (2004)
single: Pokonuje Mile (2004)
single: Spalony (2004)
LP: Neurofotoreceptoreplotyka Jako Magia Bytu (2005)
single: Luksfery Sedno/Looksphere Essence (2005)
single: 2 Pokoje (2005)
Videos
Pokonuje Mile (2004)
Spalony (2005)
Klinika Psychoromana (2005)
2 Pokoje (2005)
Petla (2006)
Skrzynia Ikarusa (2006)
Enjoy and search for more ;)