Pati Yang — best new Polish music videos #01
25.04.2010
Pati Yang is a Polish singer, born in 1980. Lives in London. Pati Yang released her debut titled 'Jaszczurka' (means 'Lizard') in 1998. Together with David Holmes she contributed to soundtracks of 'Ocean's Eleven', 'Ocean's Twelve', 'Buffallo Soldiers', 'Out of Sight' and others. She was introduced to wider audience when cooperation with David Arnold gave birth to 'Tomorrow never dies' soundtrack.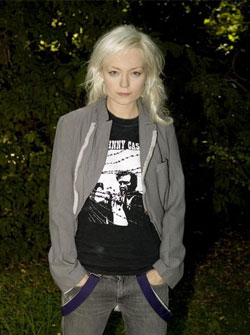 In 2005 she returned with the solo project Silent Treatment. The record was created in London Air Studios. In June, 2006 in Warsaw, Pati played as the Depeche Mode concert support. In 2008 she appeared as a guest on the album The Unrest Cure by guitarist Leo Abrahams (singing 'Banks of Kyoto').
Newest album Faith, Hope + Fury, appeared on March 27, 2009 - one day after her birthday (first SP is 'Stories from Dogland'). In the same year she played as herself - Pati Yang, singer and entrepreneur - in Polish series 'Londynczycy' (means 'Londoners'), transmitted by Polish television. Series is about Polish emigrants of the young generation living in London.
'Switch Off The Sun' by Pati Yang + lyrics
This morning's been cruel to me again,
Even my bed is cold
Naked I seat down and break in tears
So hysterical
Tearing off the pillows of past
I bet all neighbours have heard me before
Can't beat another sleepless night
Does it have to go on?
Carry on finding pieces of me on the streets
It's only when I loose myself
And it won't stop raining
Chasing days on the runaway
From the deep burning
It's only when I fade away
And the fever stays
Water is gonna have to be
Once more the substitute for milk
I close my eyes:
I think they've seen enough,
Light hurts:
Can anyone switch off the sun?

'All that is thirst' by Pati Yang + lyrics
Sweet
Must be the new word for water.. for water
Hands
Can't even hold a thing
The air tastes useless
The air tastes useless
Can't get enough of this
All that is thirst
All that is thirst
Playing new Hide and Seek:
Keep moving still
Keep moving still
Clouds
I've tried to carry
Upon my shoulder
Upon my shoulder
Keep gentle and patient
Befriend the weather
Befriend the weather
..Can't get enough of this:
All that is thirst
All that is thirst
..Playing new Hide and Seek:
Keep moving still
Keep moving still

'19:53 Northwest' by Pati Yang + lyrics
My favorite. Rather unknown song, studio version unavailable on YouTube
This time it was summer
and the planet
grew upwards
The steam
the horizon
before the snow
before the endless winter
within the heat wave
Against the walls
against the ashes of those
who didn't find the shadow in time
I guess we got stuck in neither gas
nor rain or medicine
but something hot
clean and chemical
Raise your hands towards sun I will be there
overlooking your arm, birds-eye intense
clean and cloudless and laser - blue blinding
way to close to the ground
to find me
to find me
I will be there
I feared
but I wasn't alone
amongs those with me
there was the same little one
The Oracle from my dream before
The sun swirled as we jiggled between the hideways
each one of them worse
Each time the slow ones behind screamed
the ones ahead prayed but she wouldn't listen
A small, big eyes, grown up
a natural born magician
a natural born magician
Raise your hands towards sun I will be there
overlooking your arm, birds-eye intense
clean and cloudless and laser - blue blinding
way to close to the ground
to find me
to find me
I will be there
I sensed, I would be safe
only if I keep up and hold my breath
Until the rain attacks and fades again
Within time
I would have faded with it
to wake up, to be here
Within time
I would have faded with it
to be with you
to wake up
A natural born magician

'Summer of tears' by Pati Yang + lyrics
I seat neatly, just like you told me
I don't move, nor complain
only speak when I am hungry
Or when there's nothing else to say
So where do I go
If you are not here
I am breaking the rules
I wade in the air
I've broken our home
And fallen adrift
I throw away love
Then fall in again
I forgot breathing for days
Fear I might fall asleep forever
Can't tell the difference between us
How do I loose myself
How straight…
This is the summer…
This is The Summer of Tears…