Pogodno – best new Polish music videos #02
31.05.2010
Pogodno is one of the most intriguing Polish bands outside of a musical mainstream. Risen in 1996, today Pogodno has seven LPs on its scorecard.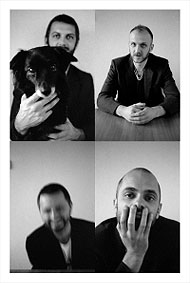 At the beginning guys from Pogodno have specialized in really alternative rock sounds. Today the band seems to be a little bit more hitting on a taste of a wider audience. Frank and direct personality of Pogodno members, including a vocalist Jacek Szymkiewicz, is a characteristic feature of the band, as well as their lyrics: unusual, authentic, ironic, absurd, inventive and hitting the nail on the head. Text value is impossible to be imparted (via simple translation) to somebody who does not speak Polish. Just like with poetry, indeed. Nevertheless, all these combined with the energy Pogodno's music is bursting with, results in a real concert bomb. Hence, the band is well-known in Poland for playing excellent concerts and it's popularity among the youth Poles not interested in a pop music, is rising constantly for a few years.
Below is a small collection of quite good songs, once popular in PL.
And for a dessert something less known, some distant times… but I like it.
Enjoy and search for more ;)