Is it OK that Polonia votes in Polish elections?
05.07.2010
Today we all already know that Bronislaw Komorowski will be the next President of Poland. Just one hour ago, at 5 p.m. Warsaw time (11 a.m. in New York) National Electoral Commission has published official results, stating that Mr Komorowski gained 53,01% of votes. Mr Kaczynski has 6% less what is equivalent to more or less 1.017.753 votes. Since I'm not going to take part in any political disputes, here on Tasting Poland Blog, nor I'm going to reveal if I'm more happy today than yesterday, let me just peacefully finish this subject :) However, I do promise to make a post tomorrow about detailed structure of voting results (age dependency, voivodeship etc.).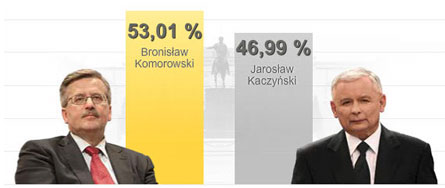 Sunday post ;) A late one.
In Poland second round of presidential elections lasts. What we have here is Mr Bronislaw Komorowski from the liberal-conservative party (Civic Platform = Platforma Obywatelska), vs Mr Jaroslaw Kaczynski from the conservative Law and Justice party (Prawo i Sprawiedliwosc) (a twin brother of Lech Kaczynski, last president, who has tragically died in a justly exposed plane crash…). For weeks a slight advantage of Komorowski over Kaczynski continues. However, one should know that many electors of Kaczynski have a tendency towards withholding their political choice, therefore lowering Kaczynski's results in pre-election polls. So who wins today? Well, nobody knows. Both of them are neck & neck and that makes my day more thrilling. We will get to know the winner in 10 hours, when Poland closes polling stations.
Meanwhile in the United States, American Polonia (Polish Diaspora) already completed their voting. As far as I know a little bit over 47 thousand people voted. Not so much… Indeed, just a speck, I would say.
But what is more interesting in my opinion - and I see it not for the first time in my life. Please, do imagine that in Poland some discussions on Polonia's right to vote explode. Many Poles claims that Polish Diaspora should not have the right to vote in Polish elections of any kind. Or that the right should irretrievably expire after about 10 years spent in exile.
That's a big thing and a strong, well developed and well thought out turmoil - at least among these Poles who use the Internet in an active way. When you look at articles about elections in U.S. circa 70% of all commentaries expresses being indignant over Polonia's right to vote. Recurrent arguments are:
"Polonia are people living outside PL for years and years - therefore it's their homeland but not their country any more",
"they do not know Polish reality",
"their interest in Polish elections is an arrogant butting in",
"they should not vote 'cause I don't like them, 'cause I don't like U.S., 'cause nobody likes U.S. these days".
Or a thought provoking statement I find as the only one logically supported and worth to consider: when you don't pay taxes in this country, you don't 'buy' civil privileges. In other words: you cannot decide about the future of the country, you do not support at all - take care of U.S. … Below I present few comments translated into English and coming from Onet.pl forum.
Citations
"Even if (consciously or not) their votes prevailed and let's say they choose the worst possible candidate, they don't feel it. The right to vote is for those (I mean 'us') who will feel consequences of their choice. So we are more conscious and have a motivation to choose best." gekon_paskudnik
"From a distance nobody is able to get to know the real image of existence in Poland and get to know candidates sufficiently well. Since living in this country doesn't suit them and they chose another one, having at least a little reason they should not interfere in our life. Moreover they are involuntarily guided in choice by analysis and comparing the way of living in the state in which they live now. It is indisputable that things can be diametrically different and also mentalities of people depend on the environment." gramiada
"How you would feel if your neighbor started rearranging your furniture!" Mirman8
"Great words about integration, equality, freedom, Europeanism, but "Polonia it ugh, fugitives should not speak and vote because don't live in Poland". The HOMELAND is one. We can live everywhere. Sad to read your shallow, abnormal, childish (I apologise, children are more clever) comments. Today in every nook of the universe you can read the current local press from Augustow, Mragowo or Radzymin…" baaca
What do you think about all that? Should Polonia retain the right to vote irrespective of the time spent outside Polish borders?