The first Polish newspaper is 350 years old
14.05.2011
January 3, 1661, in Krakow, the first issue of the first Polish newspaper titled "Merkuriusz Polski Ordynaryjny" was printed (the latest issue of came out July 22 that same year). The publisher was an Italian guy, settled in Poland, called Jerome Pinocci. The initiative came out most probably from the Queen Ludwika Maria Gonzaga.
Newspaper came out once or twice a week with a circulation of about 100-200 copies. On average, it consisted of a 8-12 pages and contained mainly information from the European capitals and major cities of the Commonwealth. In total there were 41 issues of the magazine. The end of the issue of "Mercurius" was related to the collapse of the concept of strengthening the royal power.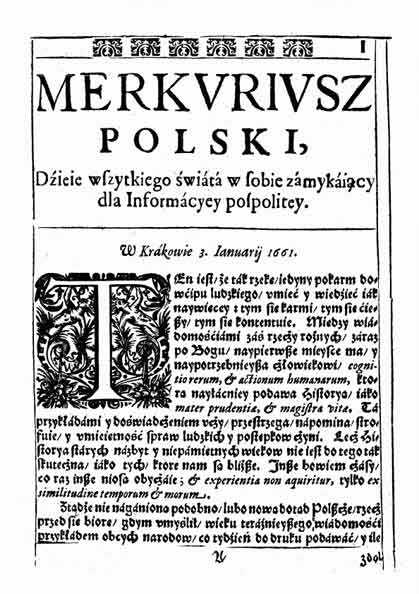 The editors of the first Polish newspaper drew with Western models, mostly French. Since 1631 "La Gazette" was being published in Paris - the oldest French journal. Like "Merkuriusz", "La Gazette" was strongly associated with the royal court.
All issues of Merkuriusz, in an electronic form, can be found at the Warsaw University Library.
Information source: Tomasz Leszkowicz, Michal Turajski from Histmag.org.