Poland has already paid for claims of U.S. citizens
09.05.2011
Ministry of Foreign Affairs has published on its contract from 60s, by which the United States renounced the right to represent its citizens in matters relating to the recovery of assets. The document states that the U.S. government has waived the claims in exchange for 40 million dollars, paid for 2 million. per year starting in January 1961. 40 million dollars then is worth approximately 300 million current dollars.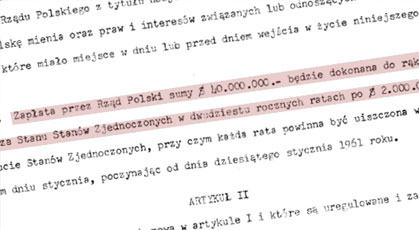 Foreign Ministry spokesman Martin Bosacki told Polskieradio.pl that Poland has fulfilled the contract within about 20 years. Publication of the Ministry of Foreign Affairs is a response to the statement by the head of American diplomacy adviser Stuart Eizenstat, who expressed disappointment at the suspension of adoption of the bill re-privatization of Poland.
The Government regulations state that the Treasury will allocate 20 percent of compensation to the actual value of stolen property. Donald Tusk said, however, that because of the economic situation of the country, Poland can not afford to pay compensation now. The head of the World Jewish Congress Ronald Lauder said that Poland, as a country with high economic growth, should not hold that decision.