Prime Minister of China, Wen Jiabao in Warsaw
26.04.2012
President Bronislaw Komorowski met on Wednesday evening the Prime Minister of China - Wen Jiabao. Wednesday is the first day of Jiabao's official visit to Poland. Earlier that day, the head of the Chinese government talked with Polish Prime Minister Donald Tusk. Wen Jiabao is the first head of the Chinese government, who visits Poland since 1987.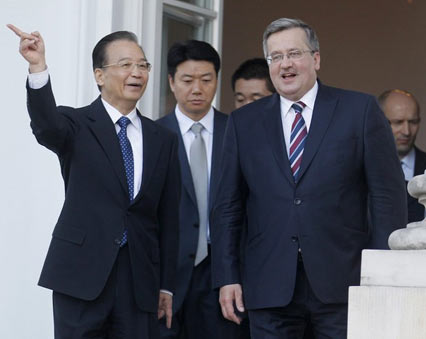 President Komorowski assessed at the beginning of the meeting that in the Polish-Chinese relationship 'a lot of good things happens'. As President's Office announced after politicians discussed opportunities for cooperation in the framework of strategic partnership. Special attention was paid to enhancing and balancing trade between Poland and China, access to Chinese market for Polish entrepreneurs, investment and cultural cooperation. The parties expressed hope for the development of contacts between people, especially youth. According to these Chinese side also expressed its satisfaction with the fact that Poland organizes an economic summit on Central Europe – China issues.
On Tuesday, Amnesty International, the Lech Walesa Institute Foundation, and The Other Space Foundation requested an appeal to Bronislaw Komorowski to raise during the meeting with Wen Jiabao, the issue of human rights violations, including in particular the release of three prisoners of conscience and human rights activists: Nobel Peace Prize winner Liu Xiaobo, Gedun Czoekji Nima, and a lawyer Ni Yulan.
Presidential adviser Tomasz Nalecz when asked whether the president will talk with the Prime Minister of China on human rights said that Komorowski, "with all his curriculum vitae testified that he is committed to civil liberties and human rights." He noted that during his visit to China last year, the presidential couple met at the Polish Embassy with representatives of the Chinese civil environments.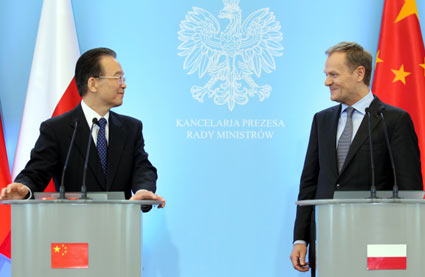 Donald Tusk after Wednesday's meeting with Wen Jiabao expressed his hope to increase the involvement of investment in Poland of Chinese entrepreneurs and institutions, and also the Chinese state. Wen Jiabao pledged that his country seeks not only the economic development, but also heads toward "building the rule of law and human rights. The Chinese side is ready to cooperate with the Polish side in these areas" - Chinese premier said after a meeting with the head of Polish government.