Remembering Pola Negri — 25 Years On
30.04.2012
This year marks the twenty fifth anniversary of the death of one of cinemas most charismatic, glamorous and exotic actresses. Someone who, despite very humble beginnings in her birth country of Poland, rose to prominence and became a beloved icon worldwide: Miss Pola Negri.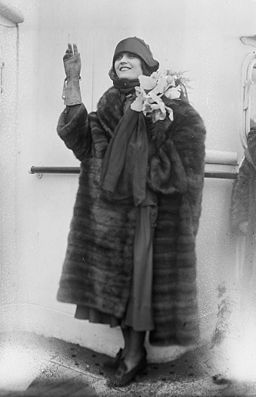 An Inauspicious Start
She was born Apolonia Chalupec on 3rd January 1897 in Lipno. Her mother Elenora Kietscewska was the daughter of impoverished Polish royalty and her Father was of Slovakian descent. Elenora's family disinherited their daughter over her decision to marry Pola's father Jerzy Chalupec, rather than opting for a life of comfort, opulence and wealth with an aristocratic prince or count.
Pola was left an only child after the deaths of her two siblings and grew up very much a loner, preferring her own company to that of anyone else.
Her father, Jerzy was the owner of a factory that produced tin (which Elenora had used part of her inheritance to buy). However, his true cause lay with political activism, which eventually resulted in his imprisonment and abandonment of his family – something which Pola carried with her as a scar for the rest of her life.
After this horrible event life took a turn for the worse for Pola and her mother, two businesses that Elenora had plumbed the last of her money into failed to thrive and a move to Warsaw failed to help their fortunes either. They lacked money for food and for furnishing their home.
It was here that fate and luck played a part in helping them. Pola was a naturally graceful girl – and a very adept dancer. Whilst playing in the street one day she was spotted by two people who sang in the Polish Opera and they offered her the chance to try out for the Polish Imperial Ballet. Pola took the opportunity with both hands, though was incredibly nervous on her first audition, having to run out to be violently ill!
She made her debut in Tchaikovsky's "SwanLake", though poor health put an abrupt end to her life as a ballerina as she contracted tuberculosis. She knew though, that something in the arts was what she was destined for and made a vow she would carry on in some way no matter what.
Pola in Film
Pola made her film debut in 1914, in a film which also happens to have the distinction of being the first feature film ever made in Poland, called "Niewolnica Zmyslow" (Slave to Her Senses). She worked for the Sphinx Film Company, owned by Alexander Hertz, and was purported to be working shooting scenes during the day and then rushing off to perform in the theater at night, such was her demand and talent.
By 1917 and at the tender age of nineteen she was taken to Germanyto work for the Deutsches Theater, and it was from here on in that her career really took off. During this time she met the film director Ernst Lubitsch who was working for a company called UFA who just happened to be Germany's leading film studio. Lubitsch recognized something in Pola and she was cast in an opulent drama called "Die Augen Die Mumie Ma" (The Eyes of The Mummy) in 1918. Her most remembered film role from this time was in "Madame Du Barry", a lesson in not only Pola's talent but one that broke down social and political barriers. This was the motion picture that halted the ban on post war German films in Americaand made a star of her and Lubitsch across the world. By 1922 Pola was signed to Paramount Studio, and about to embark on a life of extreme public presence.
Of course, Pola wasn't the only European star to be taken over to Hollywoodat this time. Greta Garbo, Ingrid Bergman and Marlene Dietrich are probably just the most widely known – with Pola more or less forgotten these days, despite her having the longest and some would say greater artistic career.
Unfortunately, very few of Pola's silent films are online. However, this short clip from her film "A Woman Of The World" shows indeed what a beauty she posessed, and not only that, what an incredibly engaging, sultry performer she was.
This clip of her is from "A Woman Commands" and shows her in an early sound role from 1932. It seems strange to finally hear her in all her glory but at the same time it's such a treat. She had an incredibly powerful voice, one that would have been very well suited to lieder and the ilk, as you can see from this clip:
While many other film stars from the silent and early sound era had faded and died, or disappeared into obscurity, Pola did not. She may not have been as well known by the 1960s, but she was still working hard and acting. At the age of sixty seven (as she was in this clip from a film she made with the British actress Hayley Mills called "The Moonspinners") she still looked so very beautiful, poised and elegant.
Pola's Personal Life
Her romances and her private life were often talked about as much as her work in cinema and theater. She had two unsuccessful marriages, one to Count Eugieniusz Dambski which lasted from 1919 to 1922 and then to Prince Serge Mdivani from 1927 to 1931. The latter marriage more than likely came on the rebound from her very public and highly charged relationship with The Sheik himself, Mr Rudolph Valentino.
The two had, according to Pola, been engaged to be married – this was despite him still being married to his wife Natasha Rambova at the time. The one thing Pola is probably best remembered for outside of her film making is her very public display of grief at his funeral after his untimely death in 1926.
Pola never got the chance to be a mother despite becoming pregnant during her second marriage. The resulting miscarriage put an end to both the relationship and Pola's dreams of becoming a parent.
She worked consistently through the 1930s and 1940s and made one last film in 1964, long after many other actresses of the silent era had fallen from grace. After that, she lived in peaceful retirement – though took some time to write her autobiography "Pola Negri – Memoirs of a Star".
Pola died in 1987 in San Antonio, Texas at the ripe old age of 90 years old. A true Polish star, who should never be forgotten for all she did and who never forgot her roots.