Zubrowka goes into Russian hands
28.04.2012
Zubrowka aka Buffalo Grass Vodka aka Bison Grass Vodka goes into Russian hands. Russian Standard Company will invest $ 100 million in manufacturer of alcoholic beverages, CEDC. The share price rebounded strongly.
On Monday CEDC and Russian Standard Corporation entered into an agreement on a strategic alliance. According to the contract, the Russians will buy shares of CEDC for $ 30 million and bonds for another $ 70 million. In total, the Russian company will cover 28% of CEDC shares - one of the largest producers of vodka in the world and largest alcohol industry in Central-Eastern Europe. Apart from Zobrowka CEDC produces alcohols such as Green Mark, Bols and Absolwent. Russian Standard Corporation is a private company operating in the Russian and international market for premium vodkas, as well as banking and insurance.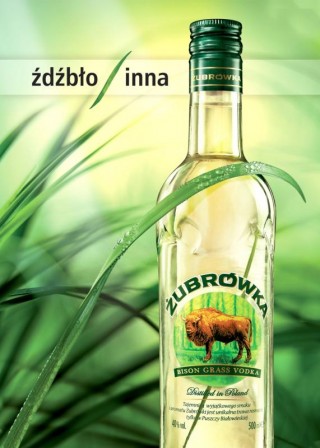 Zubrowka is a traditional Polish flavored vodka obtained from rye rectified spirit, mixed with a concoction of Hierochloe odorata - commonly called 'Bison grass', that grows in the forests of Bialowieza National Park. The spirit gets a special taste, aroma, and yellowish color. Each original bottle contains a blade of bison grass. Zubrowka production in Poland dates back to the seventeenth century, and already in the eighteenth century it became one of the favorite drinks of the Polish nobility. In 1926 the Polmos company has developed a way to mass produce Zobrowka. The alcohol is usually individually served or as a chilled drink, mixed with apple juice. In Poland, there is also a variant of pure vodka available on the market, that is sold under the name Zubrowka Biala (Zobrowka White).