Mushrooms in Polish cuisine and tradition of mushroom hunting
Mushrooms are popular in many countries, including Poland, because of their excellent taste and aroma. They can grace every, even the simplest dish such as scrambled eggs. Delicate mushrooms are great for soups, 'zapiekanka', sauces, and meat dishes — kania (parasol mushroom), maslak (bolete), kurka (chanterelle), pieczarka (white mushroom) and rydz (saffron milk cap). Every meat will also taste great with fried borowik (boletus) or podgrzybek (bay bolete).
Mushrooms are also suitable for omelettes, pizzas and tarts, as well as an addition to filling pierogi. Mushrooms, in addition to the undeniable flavor, also have some (however not lots of) nutrients. They contain iron, potassium and magnesium. They are rich in niacin, vitamin B and proteins. Despite this undeniable feats, and to be honest, mushrooms are not for everyone. They should not be eaten by people with liver problems, eldery people, and children under 4 years (except for white mushrooms right from your nearby grocery). Why is it so? Mushrooms are, generally speaking, hard to digest. Despite these disadvantages, we recommend eadible mushrooms of many kinds, because they are a great addition to many Polish meals, both everyday and festive.
In Poland, where the very strong tradition of the mushroom hunting exists, mushrooms growing wild in forests are collected from time immemorial. The one called boletus (in Polish: 'borowik' or 'prawdziwek') are recognised as one of the noblest, and usually used for filling Christmas Eve 'uszka', or traditional Polish pierogi. Another example of delicious fungus is chanterelle mushroom (in Polish: 'kurka', sometimes 'liszka' or 'pieprznik') adored by Poles as well as others. An exquisite scrambled eggs are made with gently fried chanterelle. Another Polish dish that makes use of 'kurka' is a special and delicious sauce served with the pork neck, the sirloin or the pikeperch. On the other hand, parasol mushrooms (in Polish: 'kania') fried in a coating constitute the delicacy on the Christmas Eve table in many Polish homes. And these are just three examples.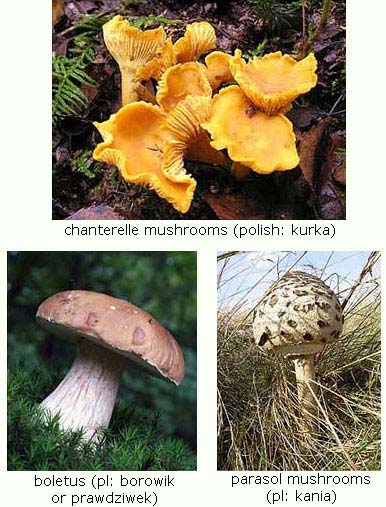 The mushroom hunting is a hobby of many people, whereas for the majority it is a way of spending time in the bosom of nature - recreational activity. The mushroom hunting remains cultivated in Poland also on account of culinary benefits and because of tradition that requires preparing some festive meals made of mushrooms. Polish cuisine knows a lot of dishes which consist of mushrooms. These are inter alia soup, sauces and stuffing. Moreover many mushrooms are dried for the Winter time. Beautiful aroma of mushrooms being dried stays afloat in home for many days. Wonderful appetizers results from some other mushrooms that are marinated.
Poles preparing traditional dishes usually don't use white mushrooms easily available in groceries around the World. Polish dishes are always based on raw mushrooms (directly after picking, i.e. in Autumn time). In winter dried mushrooms are used. In many families mushroom hunting is an activity of grandmothers and grandfathers, who have lots of free time and find pleasure in walking in forest with the basket on the shoulder. Access to mushrooms isn't hampered for nobody, since in Autumn it is also possible to buy raw mushrooms at the markets in many towns, while in Winter, in the pre-Christmas period dried mushrooms turn up at groceries.
The mushroom hunting is a great Slavic tradition. A long time ago mushroom hunting was a group activity. Friends, or members of families went to forest for the many hours' mushroom hunting. On their return dishes of the traditional Polish cuisine were concocted from gathered mushrooms. One could find the literary description of such collective mushroom huntings in Pan Tadeusz by Adam Mickiewicza. This poem is regarded in Poland as a national epic.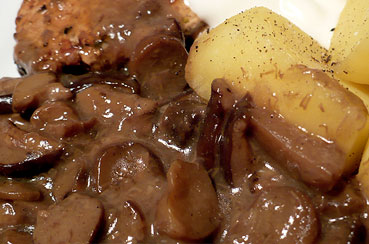 The mushroom hunting is an activity well-known to Slavic nations (Poland, Czech Republic, Slovakia, Ukraine, Russia and other) and Baltic (Lithuania, Latvia, Estonia). It is also popular in Nordic countries (Norway, Sweden, Finland, Denmark) and in some countries of Mediterranean Basin. Outside Europe Koreans, Japanese and Canadians pick mushrooms.