Miod pitny — traditional Polish mead
Mead is one of traditional Polish alcohols. It is produced by fermentation of lime honey. Meads are sometimes made with various juices to improve the taste, as well as with herbs and spices. Mead made from pure lime honey was peculiarly valued. This drink is manufactured and drunk in Poland since the Middle Ages - in the early history of the state ruled by Piast dynasty, wine was not cultivated. Hence, Poles needed some more easily available alcoholic beverages. In this way a tradition of brewing beer and production of the mead rose. Meads were pleased with a great renown, but were drunk rarely, most oftentimes during important celebrations like the wedding. It was a luxury and expensive alcohol. With time mead lost on meaning, because of cheaper and easy to produce vodka. It kept the popularity longer in Podhale region and in Lithuania. However, in the scale of the entire country at the end of 18th century, mead was already a real rarity. In today's Poland mead came back to respect due to it, but its popularity stays (and probably will) significantly smaller than popularity of the beer and vodka.
"Mead was also popular in Central Europe and in the Baltic states. In the Polish language mead is called miód pitny, meaning 'drinkable honey'. In Russia mead remained popular as medovukha and sbiten long after its decline in the West. (…) In Finland a sweet mead called Sima (cognate with zymurgy) is still an essential seasonal brew connected with the Finnish Vappu (May Day) festival. It is usually spiced by adding both the pulp and rind of a lemon." — Mead in Wikipedia
From 2008 Polish meads are registered by the European Commission and officially treated as traditional speciality.
Seasoning of meads
Many flavorings of meads are get through seasoning it with fruit juices (she so called 'miody owocowe', what means 'fruit honeys') or with spices ('miody korzenne' and 'miody korzenno-ziolowe' - 'spice honeys' and 'spice-herbal honeys' respectively). Most oftentimes spice-herbal meads are made with: hop, cinnamon, cloves, ginger, pepper, juniper, vanilla, rose petals, mint leaves, almonds, lemon and the orange peel.
How to buy Polish mead?
If you buy miod pitny in Poland remember to direct your attention to the kind. We have a few kinds of meads which differ in the degree of watering-down:
półtorak – meads produced from the mixture of one unit of volume of honey and half of a unit of volume of water
dwójniak – mead from one unit of honey and one unit of water
trójniak – one unit of honey and two units of water
czwórniak – one unit of honey and two units of water
piątak – one unit of honey and two units of water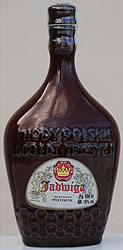 Intensity of the honey taste decreases in the sequence: poltorak, dwojniak, trojniak, czworniak. It is not a rule, that mead of poltorak type will be more tasty than trojniak. Not at all. The only one thing that is certain is the fact that poltorak will be definitely sweeter and will contain more alcohol. On that account poltorak and dwojniak are determined oftentimes with name 'royal mead'. To sum up: in the sequence poltorak, dwojniak, trojniak, czworniak both a concentration of alcohol and a level of the sweetness decreases . What kind of meat suits you is the matter of personal taste. Relying on my own observation I would venture to say, that in Poland trojniak is the most popular kind of the mead - it appears that trojniak is something like the optimum choice and compromise.
Piataki and czworniaki, that is dry balms, mature most quickly and are suitable for drinking after 6-8 months. The larger content of honey requires longer maturing. Trojniak matures from 1.5 year to 4 years, however poltorak will be ready to drink after 8-10 years!