This delicious soup comes from the traditional Hungarian recipes and for decades is also popular in the Polish cuisine. The following recipe describes 'Polish' goulash soup, which is less spicy than original, Hungarian equivalent. Expression 'goulash soup' ('zupa gulaszowa' in polish) corresponds to Hungarian 'goulash' ('gulyás' in Hungarian), while word 'goulash' describes in Poland a dense sauce made in the Hungarian style, not the soup.
---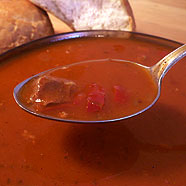 Ingredients in this recipe:
300 g of the pork
200 g of the beef
2 onions
some butter or oil for frying
100 g of carrot
1 green pepper
1 red pepper
4 fleshy tomatoes
1 L of pure hot water
1 teaspoonful of salt
2 teaspoonfuls of sweet pepper
grinded black pepper
powdered chilli pepper acording to taste
one or two cloves of garlic
one spoonful of cream
takes 2 h
---
Recipe: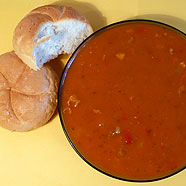 Wash and cut into small 200 g of pork and 300 g of beef.
Peel two onions and slice it.
Put some oil or butter on the frying pan. Throw onion onto pan when heated up. Fry onion gently.
When onion browns a bit, put meat to the frying pan and fry it (altogether with onion) precisely from every side.
In the meantime peel 100 g of carrot, wash and cut up crosswise into round slices.
Clean both raw peppers, halve them and remove seeds and white parts. Rinse with water and cut peppers into stripes.
Scald four tomatoes with boiling water and peel the skin. Cut base of the stem out and dice tomatoes.
When the meat is fried throw carrot, pepper and tomatoes onto the frying pan. Fry about 5 minutes.
Move the entire content of the frying pan to the pot and flood with 1 liter of hot filtered or mineral water (4 cups). Mix it, keep heating and leave for 5 minutes.
Pour two teaspoons of sweet, red pepper into pot, than 1 teaspoonful of the salt and the quarter of teaspoonful of chilli pepper (my own experience) or any other quantity according to Your taste.
Leave soup heating it up under the lid for 1 hour.
After an hour turn the heating off and press one or two cloves of garlic to the goulash.
Add the grinded black pepper according to your taste. Taste the soup and if necessary salt some more and season to taste.
Leave the soup for cooling. After a dozen or so minutes, when it is no longer hot, add one spoonful of the cream and mix precisely.
The dish is ready. Before serving warm it up again, but never let it boil. You can serve goulash soup with the bread or rolls.
I hope that you find this goulash soup recipe useful. Enjoy your meal! Smacznego! :)
---