Red borscht with cream and potato recipe
The following recipe is long, because it is quite detailed.
Nevertheless, preparing this red borscht should not take up more time, than two hours.
---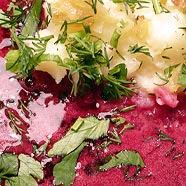 Ingredients in this recipe:
3 carrots
1 parsley
1/2 of leek
1/3 of celery

or

ca 400 g of frozen vegeta- bles instead of those above
5-6 stock cubes
2-3 beetroots
10 black peppercorns
5 allspice berries
5 bay leaves
2 cloves of garlic
2 onions
butter or olive for frying onion
5-6 tablespoons of breadcrumbs
cream
sugar
potatoes
dill and/or parsley leaves
takes 2 h — makes 2-2.5 L of borscht
---
Recipe: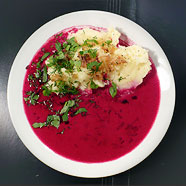 Cut three carrots and one parsley into matchsticks. Slice half a leek. Grate 1/3 of celery. Instead of those raw vegetables you can also use frozen combination (use ca 400 g). Such frozen products can be obviously found at the grocery store. In Poland this basic set of vegetables is called 'wloszczyzna' and constitutes the base of many soups.
Pour 1.5-2 litres of pure water (filtered or mineral) over above vegetables. Throw 5-6 beef stock cubes and start boiling.
In the meantime grate two or three beetroots. Throw beets belts onto the frying pan. In Poland you can buy dried beets. Some eat it as the snack or sprinkle into salads. I never tried to cook the borscht on them, although (theoretically) it should be suitable as well as raw beets.
After stock cubes dissolve and stock becomes hot, pour 1/3 or half of stock to the frying pan with beets. Stew beets under lid for about 20 minutes. At that time the juice is being extracted from beets and broth gains very beautiful colour, similar to the colour of a red wine. Borscht made of good quality beets should be naturally slightly sweet at this point.
If beets soften that stewing can be deemed completed. Pour the content of the frying pan to clean pot through strainer (beetroot stays on strainer).
Take pot with stock (earlier put away) and pour through the sieve with beets to the 'new' pot that contains borscht. In this way you will separate carrot, parsley and leek. Pour the stock through strainer with portions, trying to squeeze the remaining juice still staying in beets.
You can throw a portion of vegetables and beets from the sieve to the clear borscht. Do it at your own discretion and taste, but don't exaggerate. In contrast with the Ukrainian borscht, too many vegetables should not float in the good red borscht (e.g. in the clear red borscht served with 'uszka' there is no vegetables at all). Throw away remaining vegetables, or use them for preparing some other dish.
Place the pot with borscht on the cooker and start warming gently. Add ca 10 black peppercorns, 5 allspice berries and 5 bay leaves. I personally never allow the borscht for boiling, because tastes coming from red beets are damaged slowly at the temperatures around 100°C (212°F). Moreover borscht also loses its color and aroma. Borscht should be cooked in the temperature of ca 80°C (176°C).
Squeeze two cloves of garlic to the red borscht.
At that time cut two onions into fine dice. Throw onto the frying pan, add butter or olive and fry to browning.
Throw 1 of the fried onion into soup. Pour the remaining amount into the bowl and put away. This will be needed for us as the seasoning for potatoes, while serving borscht.
On the same frying pan, on which you fried onion, brown about 5-6 table spoons of breadcrumbs. In this way you obtain the roux (polish: zasmazka). Add it to the borscht and mix precisely.
At this stage as a rule I taste the borscht and I judge, whether it should not be thicker, i.e. whether more beets juice should not be in it. If I will acknowledge that it could be more concentrated I add red beet juice concentrate. It is available in polish groceries easily (produced by Krakus or Rolnik; personally, I prefer the first one). I add it with portions, all the way to satisfying taste. However extract from three beetroots should be enough. I should also emphasize that cooking the borscht exclusively on concentrate is sentenced to failure. It is worthwhile devoting the moment to grate beets in order to cook much tastier soup.
Now time for adding the cream. Use fresh cream intended for soups. Pour half a cup of the borscht from the pot. Add two-three tablespoons of the cream and mix precisely. If lumps appear crumble it. Pour back into the pot and mix. Repeat the procedure, until you get the borscht about beautiful, pink colour. The amount of the cream in soup is a matter of the taste of course, so listen to your tongue ;) Soup with the cream cannot be boiled, since the cream will curdle. Soup gets much less appetizing look.
After the cream we add the sugar. Red borscht, against many flawed recipes, is not a sour soup! The only one justified exception is a clear borscht with croquettes. Only this one can be sour. So, put one or two teaspoonfuls of the sugar, mix it and taste. Add little portions of the sugar charily, until soup gains the gentle sweet-sour taste. You should break a sour taste of the cream - it should not dominate.
After mixing borscht with the cream turn heating off and put soup aside for cooling.
Meanwhile peel the appropriate amount of potatoes, cut into cubes and cook.
Mash boiled potatoes and season with the salt to the taste. Don't add the cream or the milk. We don't want this 'purée' to be too tender, because then it would dissolve in the borscht on the plate to easily.
When the borscht will cool heat it again. Put portions of potatoes on the plates, then pour the borscht. Sprinkle potatoes with the fried onion and shredded parsley and dill.
I hope that you find this recipe for creamy red borscht useful. Enjoy your meal! Smacznego! :)
---
See also:
---