Simple sweet curd cheese sandwiches
Below I describe the very simple recipe for sweet sandwiches made of the curd cheese. I'd recommend it with pleasure, as it is simple, fast, nourishing and very tasty dessert snack.
It may be difficult to buy Polish, or in general European style curd cheese in the place where you live (if you live outside Europe of course). Instead of the curd cheese you can use a cottage cheese, but at first press it gently to drain. In Canada some East European kind of the curd cheese is sold as 'baking cheese'.
---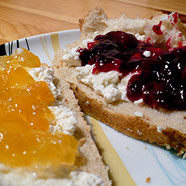 Ingredients in this recipe:
fresh bread or rolls
200 g portion of curd cheese
jam, cranberry sauce, honey
or chocolate liquor
sugar
a few teaspoonfuls of milk
takes 5 min — makes 3-4 sandwiches
---
Recipe: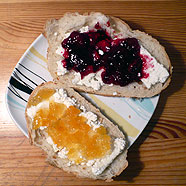 Lay slices or lumps of the curd cheese on the fresh bread or rolls.
Sprinkle every sandwich with the sugar (1 teaspoonful of the sugar to one sandwich).
Use teaspoon to sprinkle the sugar with some drops of milk.
Put sandwiches in the microwave or oven. Hold for a moment, until cheese and bread become warm, though not hot. Take sandwiches out.
Put the portion of a jam on every sandwich. If you wish you can use cranberry sauce, chocolate liquor or honey.
I hope that you find recipe for sweet curd cheese sandwiches useful. Enjoy your meal! Smacznego! :)
---