Polish tomato soup recipe — zupa pomidorowa
---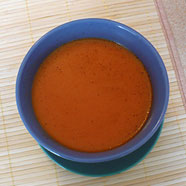 Ingredients in this recipe:
0.5 kg of meat or meat with bone or stock cubes
0.5 kg of soup vegetables (parsley, celery, leek)
5 medium carrots
spices (a few peppercorns, bay leaf, salt to taste)
1 tablespoon of butter
4 peeled medium tomatoes
1 tablespoon of tomato concentrate (optional)
200 ml sour cream or tart yoghurt
---
Recipe:
First prepare broth from meat and vegetables. Wash meat with bone thoroughly in hot water, put it into the pot and pour six cups of cold water. Cook it on a strong fire under cover, then decrease the flame and cook over low heat for about 1,5 hour. Of course and as usually you can prepare the broth with stock cubes if you don't have time for a more traditional route.
Wash, peel and put the green (vegetables) into the broth. Add 5 medium carrots (do not chop them). Then boil it all together. This blend of soup vegetables are known in Poland as wloszczyzna (as you may known if Tasting Poland is not new for you). I usually buy frozen wloszczyzna at a grocery, so I don't have to wash, peel and chop vegetables.
At the end of cooking add spices. Cook few minutes more and then take out the meat and all soup vegetables (wloszczyzna). However, leave carrots inside.
Peel and cut tomatoes into cubes. Melt 1 tablespoon of butter in a small saucepan, then add peeled tomatoes and cook it until a thick consistency. Sometimes I add 1 tablespoon of tomato paste (concentrate). It makes the soup more tomato-like, but changes the taste a bit. Just try yourself what you like, but (obviously) never use ketchup! ;)
Add tomato sauce prepared according to point 4 to your pomidorowa soup and mix it well.
Pour sour cream or tart yoghurt into a small saucepan. Gradually add spoonfuls of the soup, one after another, so the cream does not coagulate when heated up to fast. Mix it all precisely, and when you have got a satisfactory mixture of cream with soup pour that slowly to whole pot and mix once again.
In Poland zupa pomidorowa is served with rice or noodles, so you also have to boil one of these before dishing up. To make filled soup plates more appetizing (and to add a bit of artistic character) put a teaspoon of cream in the middle of the plate and decorate with a little twig of parsley leaves.
I hope that you find this Polish tomato soup (zupa pomidorowa) recipe useful. Enjoy your meal! Smacznego! :)
---
See also:
---