It's time for mushrooms — a real autumn dinner
13.09.2010
Like it or lump it. Autumn is near. What does it mean for Poland? It means end of the green in Polish nature. After a few pleasant weeks of a warm colors spectacle - from yellow, through red, to brown - trees will finally lose leaves, turning themselves info unfriendly brooms. Soon after a layer of pure snow will cover branches.
Polish Autumn can be really ugly if it rains all the time (and such Autumns are quite typical, unfortunately), but - on the other hand - Autumn can be very beautiful, if the weather is good, and there's a lot of sunshine. Poles have an expression for that: 'Zlota polska jesien', what means 'Polish golden Autumn'. I promise that if this Autumn will be 'gold', I will make a set of nice photos, here in Warsaw, where we live for some time (as all of You, who had ever read this blog before, probably noticed).
But Autumn in Poland, either gold or an ugly one, is a time for mushrooms and mushroom hunting. People in Poland love it. There are forests where in weekends you will find so many cars on tracks, that it looks like a parking lot in the city.
I wanted to show you something :) I got a fresh, small jar of a mushroom sauce made from boletus picked few days ago by one of our friends. Yum-yum. I ate it with a portion of grilled pork - maybe not the best connection, but just have a look at the photo below :) I wanted to share that with you - a real Autumn dinner in shades of bronze: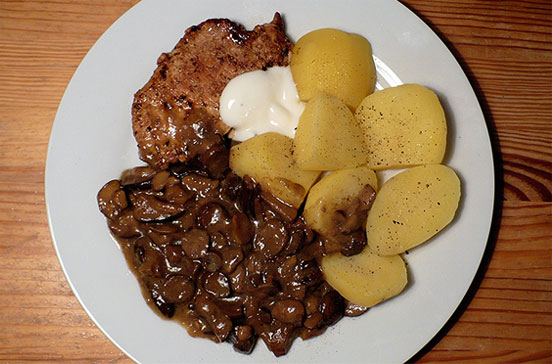 And here comes recipes for two types of Old Polish mushroom sauces, if any of You is interested: