Old Polish fresh mushroom sauce recipe
---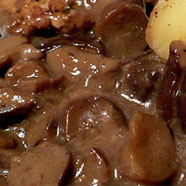 Ingredients in this recipe:
12-15 caps of fresh mushrooms (boletus, Leccinum, Xerocomus)
1 big onion
2 heaped spoonfulfuls of butter
1 heaped spoonful of wheat flour
half a cup of the cream
cup of the broth
heaped spoon of the dill chopped up
salt
black pepper
takes 0.5-1 h
---
Recipe:
Wash and clean 12-15 caps of mushrooms. Next dice it into very small cubes.
Peel one big onion and also cut into dices.
Melt 2 spoonfuls of butter on the frying pan and throw onion.
Add mushrooms before onion will manage to get browned. Mix everything and put the lid on your frying pan. Fry slowly and gently. Stir from time to time. It should last for about 15-20 minutes.
After this time add the heaped spoonful of the wheat flour and precisely mix. Fry a few minutes this way, until the flour loses its 'raw' taste.
Add 1-2 poultry stock cubes.
Mushroom sauce should be dense, but not as far as the cream. If your sauce is too thick add some water.
Now season the sauce to taste. Use salt and the grinded black pepper.
We add half a cup of the cream to this amount of the sauce and then serve. On the plate we sprinkle the portion of the sauce with the dill. Old Polish mushroom sauce already mixed with cream should not be heated again. Therefore the cream and dill are added right before serving and consumption.
Traditionally the Old Polish fresh mushroom sauce is made on broth cooked on real chicker (or beef). There's no stock cubes. If you feel like it to prepare the sauce this way, you will need one to one and a half cup of the broth. While frying mushrooms with onion, don't cover the frying pan with the lid. It is important for us, that water contained in mushrooms evaporates (to a considerable degree). And only when there stays really little 'natural' sauce (extract), we fill mushrooms with the previously prepared broth.
I hope that you find this Old Polish mushroom sauce recipe useful. Enjoy your meal! Smacznego! :)
---
See also:
---