Business in Poland. Who dares?
22.11.2010
For some time I share with you information about the positive economic and social progress, which occurs in Poland for years. I have wrote that Poland ranks 1st within middle income group, corruption falls, and that for the first time the country has been classified by United Nations as "Very High Development" country, what means that Poles had joined the first world league in terms of economic and social advancement.
However, it is obvious that not everything looks rosy and works as Poles and other people living in Poland would wish. There is no such country or society, that is ideal. All the more so if we're talking about Poland – the place well developed and not poor, but still far behind the world's bests. So let me call this 'the policy of sincerity' and I will make some complaints today.
Doing business in Poland
Each year experts from the World Bank publish a report on doing business in various countries around the world. They take into account e.g. how difficult it is to set up or close a company, to get a credit or pay taxes.
The latest report - Doing business 2011 - is based on data collected during the period from mid 2009 to mid 2010. Results really shocked me. I am not a Polish businessman, so I haven't had an inkling about how hard it is. And it appears that doing business in Poland is a grind.

Poland is ranked 70th, between Namibia and Tonga. 183 countries were classified but much of that is a third-world, which unfortunately suffers from far more serious reasons. Therefore, Poland's result is really dramatic. Consider we are talking about a country with ambitions, which has to develop constantly, and has to do it fast! Among European Union countries only Italy and Greece is worse. In the rest it's much easier for people to run their own businesses.
Sources of problems still remain unresolved
Bad news is that the situation is nothing new. It is not a result of some bad decisions that can be quickly repaired. Problems associated with doing business in Poland remain the same for years and years. The situation has improved only slightly.
It is the fault of all governments in Poland. They promised, but did not fixed the law. World Bank's report shows that Polish entrepreneurs operate in particularly difficult conditions. Tax system is very complicated and extremely unwieldy – PL ranks 151st in this terms. Constantly number of different type of taxes increases, and the time that an entrepreneur must spend on tax payment service significantly grows!
Setting up a company is a pain. According to the report to set a business afloat is easier in 116 countries in the world… Poland ranks 117th. Still better than in 2009, when it was 145th! Dealing with construction permits is a bureaucracy climax – 32 procedures and 311 days to build, let's say, a storehouse (164th). Now, when you look at the "Economic Freedom of the Word 2009" – ranking prepared by professors from Florida State University, Auburn University and University of Groningen – and when you see that in years 1980 – 2007 Poland did not decreased the size of government, but had got worse, it does not seems unlikely any longer.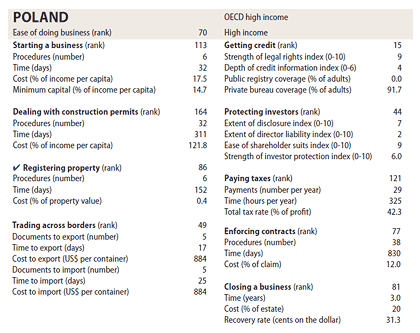 A glimmer of hope?
The law is a little easier to Polish exporters. Poland ranks 42nd in the world. However, still performs worse than the EU average. The only good news stemming from the World Bank ranking, is that it's quite easy to get credit in Poland (ranks 15th). Protecting investors is not so bad also (44th).
Summary
Poland is overly bureaucratic, with overgrown and inefficient administration. If the country wants to compete with other European economies – not only the largest, such as Germany, France or Britain; but also with comparable ones (Czech Republic, Slovakia, Hungary) – radical reforms are needed promptly.