Flaki or flaczki (polish beef tripe) — way to heart through stomach
Flaki is a traditional Polish meat stew in the form of a dense soup. Name – flaki or its diminutive flaczki (both are plural) – comes from its main ingredient: cleaned strips of beef tripe. To be more brutal: fragments of the stomach! No matter how oddly it sounds – believe me that flaki is really tasty. However, even many Poles don't treat shreds of stomach with sufficient confidence and confine themselves to eating a mere stock. And this one is absolutely delicious – as for it almost nobody has doubts. If you don't find yourself swallowing fleshy slices, eat stock of flaki with relish and nobody would take it amiss. Nevertheless there is many many people who really love flaki and eat them whole. The soup is traditionally served during polish weddings – as one of 'hot meals'. Flaki is eaten with fresh bread, usually with roll. This is how it looks like: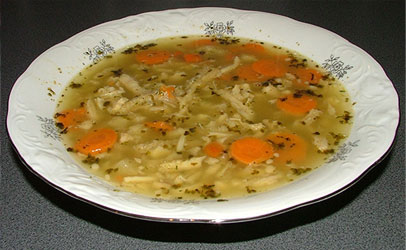 On Polish land flaki was already known in the 14th century. Flaki was one of favorite dishes of King Wladyslaw Jagiello. Some variants of soup are also well-known in kitchens of other nations (Austrian, French, German, Italian and Asian). Those differ from Polish dish in the way of seasoning (e.g. addition of the wine vinegar in Austria) and way of serving. In Turkey flaki, seasoned with lemon, vinegar and garlic are regarded as one of the national dishes. In all recipes including polish you would find that it is possible to use all four parts of the stomach to prepare flaki, but it is believed that a maw and a paunch have the greatest culinary value. Beef tripe is rich in calcium compounds and contains them even more than meat itself.
A few words about concocting this exceptional dish. Tripe, after cleaning, blanching and cutting into thin belts, constitutes the base to a vegetable soup. Addition of beef or smoked bacon is possible if not advisable. It is consequential to cook flaki slices in stock until soft. Soup is usually served as pungent (pepper, nutmeg, ginger). The way of preparing differs a little bit depending on the region of Poland. Some add a bit of a tomato concetrate to flaki, some cook tripe without the roux. Popular addition to improve 'nobleness' is meatballs, which you could find in a regional variant known as 'flaki po warszawsku' (flaki in a Warsaw manner). In groceries in entire Poland there are also ready-made 'flaki po zamojsku' (flaki in a Zamosc manner), sold in cans and jars. A variant of flaczki, in which fowl stomach is used instead of cow's, is also known and called 'flaki drobiowe' (poultry flaki).
Because tripe requires prolonged cooking, making Polish flaki lasts a lot of time. Therefore, I oftentimes prepare this Polish soup using poultry – a chicken or turkey breast. I cook meat in broth together with all of spices and when it is ready tear it with a fork. This flaczki has a very similar taste, since combination of typical intense spices is analogous to the original soup. It is not completely the same taste. The traditional flaki has a little bit of peculiar taste thanks to a tripe which is missing here. However, chicken flaki are still really tasty and worth recommending. And there is a one more advantage apart from an easiness and speedy of cooking. Those people disturbed by the consciousness of what kind of meat swims in a plate of the original flat tires, can eat chicken or turkey flaki with a relish :)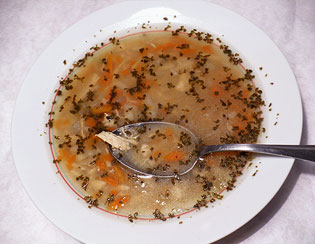 Check our recipes:
Polish flaki aka flaczki soup - 'Mummy flaki'
'Flaki po polsku', tripe in a Polish manner