Polish Desserts and Sweets —
Top 22 desserts from Poland
Here comes a list of modern and traditional Polish desserts and sweets. Under descriptions you can find some authentic recipes. Going to visit Poland and would like to taste some delicious foods not choosing on spec? You are welcome. All Polish foods listed below constitute a typical Polish menu up to this days. Therefore, while visiting Poland, one will certainly come across many of them. I wish you good luck in exploring Polish tastes and… Smacznego!
List of Polish desserts & sweets

Paczki • Polish donuts
---
Pronounciation: singular - pączek [ˈpɔ̃n͇ʧ̑ɛk], plural - pączki [ˈpɔ̃n͇ʧ̑ci]

Paczki are one of the most typical sweet snacks you can buy in a Polish store. Paczki are a round spongy yeast cake stuffed with one of many fillings like: rose or strawberry preserves, liqueur, budyn (Polish pudding/blancmange, see below), sweet curd cheese or chocolate. This Polish dessert is fried on deep oil until dark golden color and served covered with powdered sugar, icing sugar or chocolate. Also, oftentimes sprinkled with orange peel. Paczki are one of the most traditional Polish desserts; they appeared in Poland during the time of King Augustus III of Poland (first half of 18th century). A word paczki is plural, its singular equivalent is paczek.
In Poland, there is a strong and pleasant tradition of eating paczki on last Thursday of the carnival. This day is a so-called 'fat Thursday' ('tlusty czwartek' in Polish language). Statistically, every year the Poles consume 100 million paczki in a course of this one day only. A superstition exists, that if anyone do not eat a single one paczki they will be unlucky all year long. In the past a baker who had prepared paczki, impaled some with an almond or a nut. The Poles believed that the one who will find it is going to be lucky in his / her life.
Polish 'Fat Thursday', which is a Thursday before Ash Wednesday, should not be confused with a so-called 'Fat Tuesday'. Fat Tuesday, better known as Mardi Gras is a tradition cultivated in Belgium, Netherlands, Sweden and some parts of United States and Canada. Interestingly Fat Tuesday is also known in Germany, and in the same time Germany is the only country that shares the tradition of Fat Thursday with Poland :)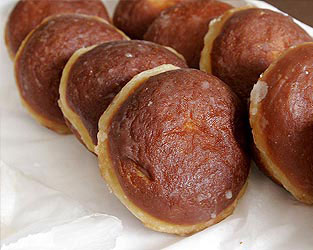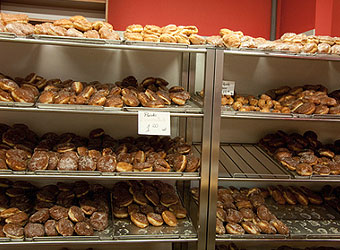 Top photo from Wikipedia. Bottom photo - store shelves during 'fatty Thursday' - by Magic Madzik.
Pączki have been known in Poland at least since the Middle Ages. Although they look like bismarcks or jelly doughnuts, pączki are made from especially rich dough containing eggs, fats, sugar and sometimes milk. They feature a variety of fruit and creme fillings and can be glazed, or covered with granulated or powdered sugar. Powidla (stewed plum jam, powidl) and wild rose hip jam are traditional fillings, but many others are used as well, including strawberry, Bavarian cream, blueberry, custard, raspberry and apple. Wikipedia
Sernik • Cheesecake
---
Pronounciation: sernik [ˈsɛrʲɲik]
Cheesecake is one of the most popular desserts in Poland. A sweet curd cheese is its main ingredient. There are many kinds of sernik differing in composition, taste and the way of preparing. The best known is a cheesecake baked in the oven and made on a layer of a crumbly cake although there are also cheesecakes prepared without baking. In most cases raisins, fruits, a crumble topping or chocolate sauce are typical additions. Quite an original example of this Polish dessert is a delicious sernik made from a sponge cake and cream cheese, and covered with fruit and jelly. This type of cake is dished up cold.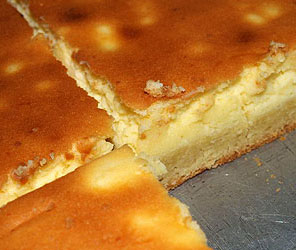 Typical Polish dessert: a cheesecake (photo by Kasia/flickr).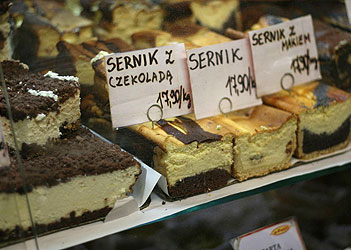 Cheesecakes in Polish grocery, made with chocolate, poppy or no additions (photo by douglemoine).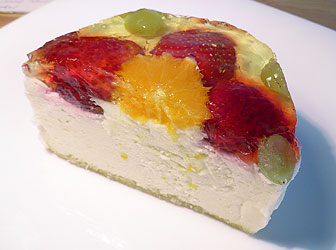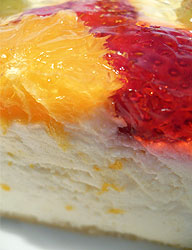 A special kind of Polish sernik I've made of a cream cheese.
Unbaked cheesecake with digestive biscuits bottom and jelly topping
Makowiec • Poppy-seed cake / Poppy-seed loaf
---
Pronounciation: makowiec [maˈkɔvʲjɛʦ̑]
Poppy-seed cake known also as a poppy seed loaf is a traditional Polish dessert - a yeast cake stuffed with a minced poppy. Some raisins, almonds or walnuts are the most typical additions. Baked cake is decorated with icing and (usually) orange peel.
In the distant times the poppy-seed cake was a traditional dessert prepared for Easter and Christmas. In the Christian tradition poppy, containing thousand of seeds in one poppy head, is a symbol of harvest and fertility. Therefore, in the past the Poles and other Slavs believed that eating poppy-seed cake during holidays will bring some luck in their life.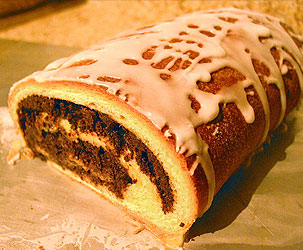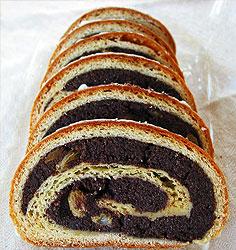 Photo by sierravalleygirl.
Piernik • Gingerbread
---
Pronounciation: piernik [ˈpʲjɛrʲɲik]
Gingerbread is a well-known aromatic cake with a very intense characteristic taste. It is a little hard and has a dark-brown color. This Polish cake is made from wheat and rye flour, milk, eggs, caramelized sugar and honey. Cinnamon, ginger, cloves, cardamom, nutmeg, anise and lavender are usually used as an addition. In Poland, piernik is sold in a form of a big piece of a cake, or as a package of small cookies usually covered with chocolate and filled with fruit preserves, nut mass or marzipan.
The gingerbread was a traditional cake of Hanseatic cities. Hence it is known not only in Poland, but also in Germany, Netherlands, Russia, whether in Scandinavian countries. Piernik become popular in 18th century in Poland and, just like in other countries, at the beginning was a symbol of prosperity and a high social status. This luxury character of the dessert was a consequence of very high price of spices. Although gingerbread is normally considered a dessert, crumbled piernik is an ingredient of a traditional Old Polish grey sauce.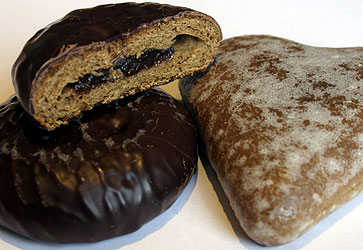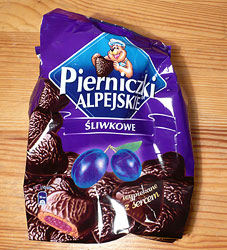 Top: traditional piernik made in Torun town for centuries (photo from Wikipedia). At right: pierniczki alpejskie (can be translated into English as little Alpine gingerbreads) covered with chocolate and stuffed with a plum jam. Quite popular and easily available in all Polish groceries.
Kluski z makiem • Pasta with poppy-seed
---
Pronounciation: kluski [kluski] z [z] makiem [maciɛm]
Kluski z makiem is a traditional sweet Polish dessert dish. Pasta with poppy-seed is usually eaten during Christmas. This Polish food consists of kluski (kind of home-made pasta) and poppy mass prepared from grinded grains of a poppy with an addition of honey, nuts, almonds and other stuff.
Kluski z makiem - pasta with poppy recipe
Kisiel
---
Pronounciation: kisiel [ˈciɕɛl]
Kisiel is a sweet, thick fruit dessert. This Polish dessert is usually served hot. However, it is also possible to eat kisiel cold. Kisiel is made with an addition of potato starch which serves as a thickening agent. Although making this Polish dessert at one's own, with use of potato starch, fruit and fruit juice, does not constitute a problem, buying powdered ready-made kisiel is definitely more popular. In Polish stores this dessert is available in many tastes.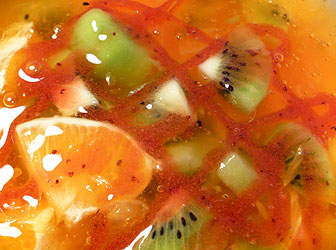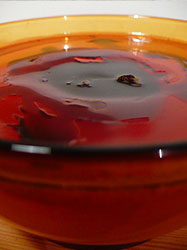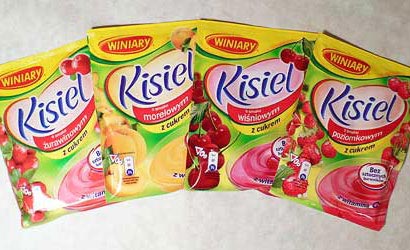 Top: an orange kisiel with fruit. Middle: cherry kisiel with a cherry jam.
Bottom: ready-made, powdered kisiel from Polish deli (cranberry, apricot, cherry, wild strawberry)
Kissel or kisel is a popular dessert in Eastern and Northern Europe. It consists of sweetened juice, thickened with arrowroot, cornstarch or potato starch, and sometimes red wine or dried fruits are added. Wikipedia
Budyn • Pudding
---
Pronounciation: budyń [ˈbudɨ̃ɲ]
Budyn is a pudding, blancmange. This Polish dessert is quite similar to kisiel but made of milk instead of water. Polish budyn is also very similar to English sweet puddings. Most often budyn has a vanilla or chocolate taste. This dessert is dished up hot with an addition of juice, fruit, chocolate or toffee icing, or with some nuts and raisins. Some people concoct salted blancmange made from mushrooms or vegetables. Budyn is very similar to English sweet puddings.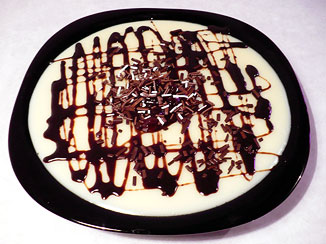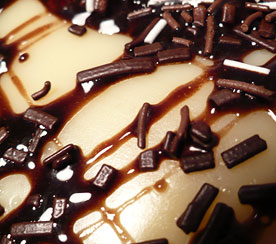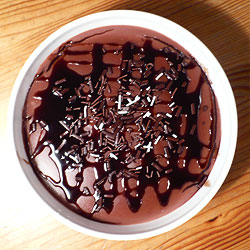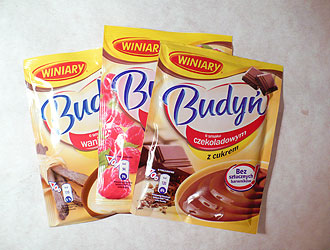 Faworki aka chrust • Angel wings
---
Pronunciation: faworki [ˈfavɔrci], chrust [ˈxrust]
Polish dessert faworki also appears under names such as chrust or jaworki. It is a traditional Polish delicacy made from a sweet crisp cake in a shape of a bow. Most oftentimes faworki is eaten on the last Thursday of the carnival (the so-called tlusty czwartek what means fatty Thursday) and before Ash Wednesday. A lot of yolk is used for a production of a dough. It must be quite well aerated what requires intensive and long kneading and hitting. Faworki are cut out of a clump and then fried in deep oil.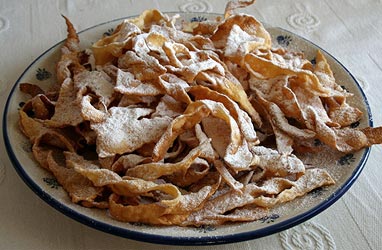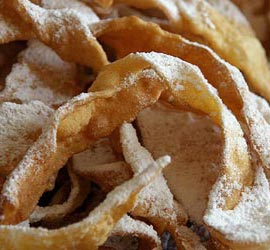 Photo from Wikipedia.
Babka wielkanocna • Polish easter cake
---
Pronounciation: babka [ˈbapka] wielkanocna [vʲjɛlkãˈnɔʦ̑na], baba [ˈbaba] wielkanocna
Baba or babka wielkanocna is a simple Slavic yeast cake dished up during Easter. This dessert is well-known to many Slavs as well as Lithuanians. After baking the cake babka is iced with icing, or with rose or orange water. There are few kinds of babka wielkanocna. A special kind of this Polish cake is a so-called sekacz – a tree cake baked on a rotary spit (see below).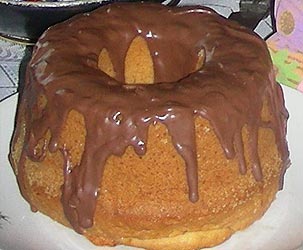 Photo from Wikipedia.
Sekacz • Tree cake
---
Pronounciation: sękacz [ˈsɛ̃kaʧ̑]
Polish sekacz - a tree cake is a sponge cake baked above a flame on a rotary spit. Originally, sekacz was a traditional Tartar cake. Later in history it has become popular on the area of the Polish Eastern Borderlands. Today in Poland, sekacz is recognized by the Poles as a regional specialization of the Podlasie region. This delicious Polish cake can be covered with icing or chocolate, but most oftentimes is eaten plain, neither with an addition nor a decoration.
Name of this dessert comes from its distinctive appearance. As a result of pouring the spit with layers of a dough, thick layers of a bright cake divided with some dark and thin layers of a scorched cake are visible in a diameter of Polish tree cake. That appearance resembles a growth rings in a trunk of a tree. Polish word sekacz is derived from sek, what means a knot.
In our times a tradition of baking various forms of tree cake is preserved in many European countries: Switzerland, France, Romania, Hungary, Lithuania, Sweden, Poland and in central Germany (where it is known as Baumkuchen or Prugelkrapfen). What is interesting, the tree cake became one of favorite cakes in Japan.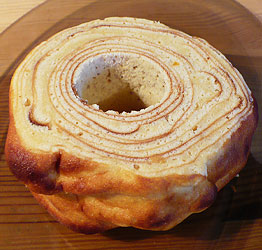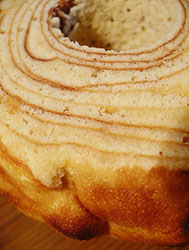 Mazurek • Shortcrust tart baked at Easter
---
Pronounciation: mazurek [maˈzurɛk]
Mazurek is a simple traditional Polish cake baked for Easter. It can be generally described in English language as a shortcrust tart. Characteristic features of this Polish cake, which would let you recognize it forthwith, is the cake's low height - only 1-2 centimeters; its decoration - quite excessive and kitschy (what is planned); and its sweetness - although it is not a rule mazurek is usually remarkably sweet, by reason of what cut into small squares (usually it is impossible to eat much of it at once).
There are various kinds of Polish mazurek made from different dough: brittle, sponge, marzipan-dough and a so-called makaronikowe dough. The dough is interleaved with a nut mass, preserves or a jam. The surface of mazurek is decorated with icing, chocolate, krowka type toffee (see below), dried or fresh fruit, almonds, nuts and raisins.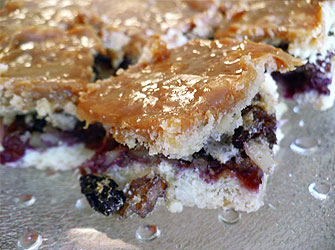 Kutia
---
Pronounciation: kutia [ˈkutʲja]
Kutia is a peculiar, traditional dish known in Ukrainian, Belarussian, Lithuanian and Eastern Polish cuisine. It is one of 12 dishes traditionally served during Christmas Eve supper by Eastern Slavs. Kutia is a blend of wheat grains, poppy, malt, honey and a so-called bakalie: various nuts, raisins, and some other additions. In our times also almonds or slices of a candied orange peel are used. On account of a large content of grains of wheat kutia seems to be quite a special dish - eating or rather chewing it takes some time. Simply, this traditional Polish dessert cannot be swallowed down at once.
Krowki • 'Little cows' candies
---
Pronounciation: singular - krówka [ˈkrufka], plural - krówki [ˈkrufci]
Krowki, what can be translated into English as little cows, are Polish milk candies. Krowki are made of a peculiar mass, something similar to toffee. These Polish sweets are soft, unusually ductile and gluing palate and teeth together. That is where an unofficial name of candies comes from - mordoklejki what means puss gluing. An interesting and characteristic feature is a fact that with a passage of time krowki harden from the outside. Fresh krowki is pulling in its entire volume (see photo below). It starts to crumble with time, however, as a result of sugar crystallization.
Krowki was invented in the first half of the 20th century by Polish confectioner Feliks Pomorski. Candies were wrapped up in pieces of paper with a picture of a cow what had popularized a name 'little cows' and is being practiced up to this day on account of a tradition.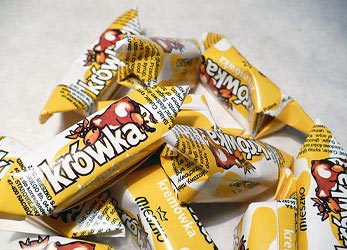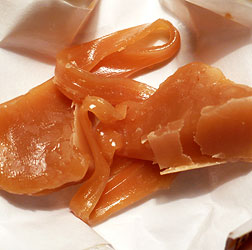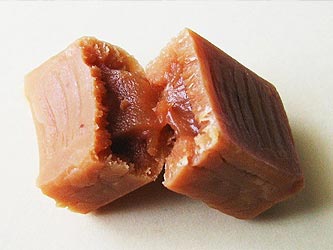 Fresh krowki are extremely ductile while older ones begin to harden.
Last photo from Wikipedia.
Krowki (plural; Krowka singular), literally 'little cows', are Polish fudge, semi-soft milk toffee candies. It is one of the most common Polish confectioneries, sold worldwide Wikipedia
Sliwki w czekoladzie • Chocolate-coated plums
---
Pronounciation: śliwka [ˈɕlʲifka]

w [vu] czekoladzie [ˌʧ̑ɛkɔˈlaʥ̑ɛ̇], plural - śliwki [ˈɕlʲifci] w czekoladzie
Chocolate-covered plums are traditional Polish candies, produced for many, many years. An entire plum covered with some kind of cocoa mass and covered with chocolate icing constitutes a heart of the candy. Yum-yum! Polish chocolate-coated plums in a decorative packaging is a great sweet gift.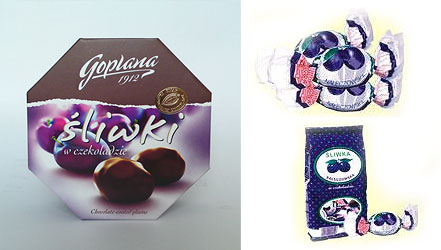 Left one by Goplana and plums by Solidarnosc at right.
Both Photo come from websites of those producers.
Ptasie mleczko • Bird's milk
---
Pronounciation: ptasie [ˈptaɕiɛ] mleczko [ˈmlɛʧ̑kɔ]
Ptasie mleczko, what means 'bird's milk' is sweet light milk mousse, with a very delicate taste. This Polish sweet is covered with chocolate icing. In general the mousse has a vanilla, fruit or chocolate taste. Ptasie mleczko is recognized as one of traditional Polish desserts and sweets. Bird's milk is produced for many decades by E.Wedel company located in Warsaw. This days also other companies try to make ptasie mleczko for the Polish market, e.g. Milka / Kraft Foods sells this product under a name 'Alpine milk' (Alpejskie Mleczko).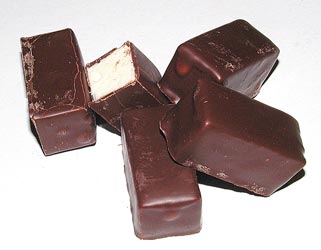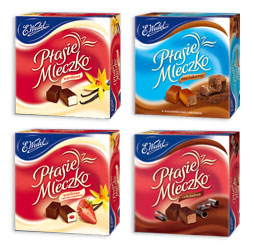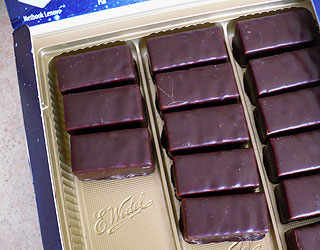 Top left photo from Wikipedia. Top right photo from E.Wedel's website.
Ptasie mleczko, which translates as 'bird's milk' is a soft chocolate-covered candy filled with soft meringue (or milk soufflé). In Poland, E. Wedel Company first developed its ptasie mleczko in the 1930s. Wikipedia
Panska skorka • Lordly skin
---
Pronounciation: pańska [ˈpãj̃ska] skórka [ˈskurka]
Pańska skórka (translation: 'a lordly skin') is a traditional Polish white-pink home-made candy, wrapped up in a piece of paper and sold mainly in Warsaw during the All Saints' Day and church fetes. In Cracow miodek turecki ('Turkish honey') fulfills a similar role. The name comes from a glassy surface of the candy. Panska skorka is related to Turkish Delight (in Poland known as rachatłukum).
Kukulki • Cuckoos
---
Pronounciation: kukułki [kuˈkuwci]
Kukulki are traditional Polish sweets produced for years. Cuckoos have a hard, glazed cover with a great alcoholic filling. Kukulki contain 1.5% of spirit so you have to be careful. What is interesting there is a Polish recipe for a delicious liqueur made from these sweets.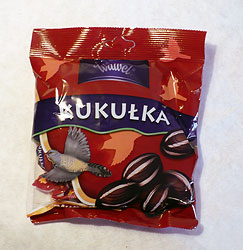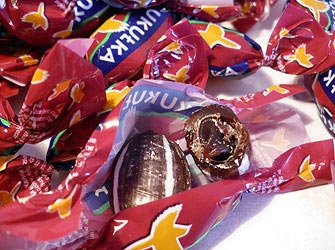 Cukierki czekoladowe or praliny • Chocolates
---
Pronounciation: cukierki [ʦ̑uˈcɛrci] czekoladowe [ˌʧ̑ɛkɔˈladɔvɛ], praliny [praˈlʲĩnɨ]
If you go to Poland and want to taste local chocolates I have some to frankly recommend you. Let me start from the most traditionally Polish ones. Kasztanki (those in an orange foil, see the photo below) are large chocolates with a very specific cocoa/nut filling, covered with dessert chocolate. You can find many little specks of something crunching inside this Polish chocolate (as I suppose some kind of a hard wafer). Malaga (these in a silver foil) are one of my favorite delicious chocolates with a semi-liquid filling containing slices of a plum. It is hard to tell you more details about Malaga's taste, since I have never eaten anything similar. Equally traditional, though definitely more down-to-earth and ordinary, there are Michalki chocolates with a cocoa filling.
Last but not least we have got Trufle and a collection of chocolates by Mieszko company worth mentioning. Trufle are another delicious candies with a peculiar alcoholic filling. These aren't traditional Polish delicacies, but perfect tastes make me to believe that these Polish chocolates deserve the sincerest recommendation. Chocolates in a red piece of paper (by Mieszko) are morello cherries in a liqueur, whereas the ones in brown are stuffed with a filling made of brandy and orange.
Of course the choice I've made above is subjective, but I go for the wager that you also would like a taste of the majority of these chocolates.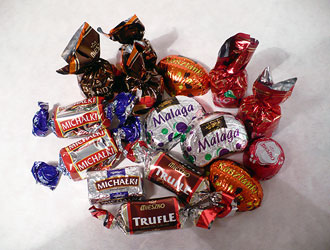 Prince Polo
---
Prince Polo is a simple but very tasty Polish chocolate wafer. Sold in Czech Republic, Slovakia, Hungary, Lithuania, Latvia and Ukraine under a name Siesta. In Iceland it is well-known as Prins Póló. For many years of a communism in Poland Prince Polo had been a bestselling chocolate wafer and its popularity did not diminished nowadays. Prince Polo has been produced for the first time in 1955, in early years of the Polish People's Republic, by a company called Olza SA. Prince Polo is simple to recognize thanks to its characteristic golden wrapping.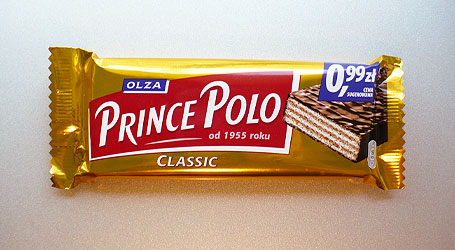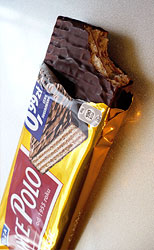 Photo from Wikipedia.
Prince Polo is a Polish chocolate bar. It is sold in the Czech Republic, Slovakia, Hungary, Lithuania and Ukraine under the name Siesta, and is also sold in Iceland, where it's known as 'Prins Póló'. Prince Polo was introduced in 1955, during the early years of the Polish People's Republic. It was for many years one of the few chocolate bars available in the country. It has long been Poland's top-selling candy brand. Wikipedia
Sezamki • Sesame snaps
---
Pronounciation: sezamki [ˈsɛzãmci]
Sesame snaps are well-known (not only in Poland) bars made of sesame poured with a tough caramel. A very tasty, simple and fast snack. Produced by E.Wedel for several dozen years.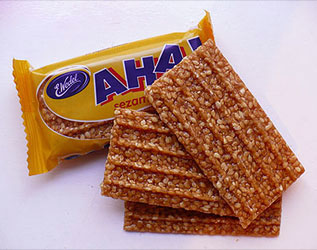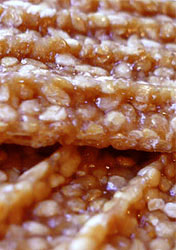 Galaretka • Polish jelly
---
Pronounciation: galaretka [ˌɡalaˈrɛtka]
Glaretka (or galaretki), what simply means jelly, is another relic of the communism. Simple product made of colorful fruit jellies sprinkled the sugar. Galaretka is semi-crumbly, in contrast with well-known jellies produced by Haribo. It is not a refined product but quite traditionally Polish. Today however, a popularity of galaretka is definitely lower than 20-30 years ago, because of wide access to a huge diversity of other Polish sweets. If you like jelly you would like galaretka. Otherwise try something else.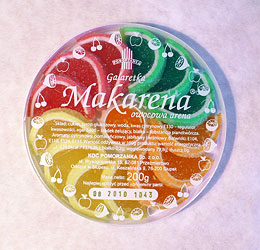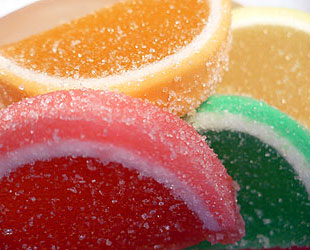 Kogel mogel aka Kogiel mogiel
---
Pronounciation: kogel [ˈkɔɡɛ̃l] mogel [ˈmɔɡɛ̃l], kogiel [ˈkɔɡiɛ̃l] mogiel [ˈmɔɡiɛ̃l]
Kogiel-mogiel or kogel-mogel is a simple dessert prepared of raw yolks and sugar. It turned up in Poland in the 17th century, and probably has some Jewish origin. Kogiel-mogiel was particularly popular in years of the communism, when sweets were not readily available. This type of dessert is also known in Germany, Russia and Israel.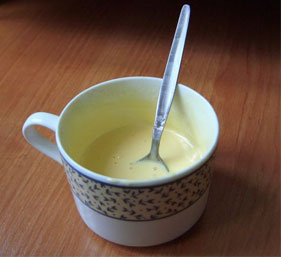 Photo from Wikipedia.
An egg-based homemade dessert popular in Eastern Europe made from egg yolks, sugar, and flavourings such as chocolate or vodka. In its classic form it is served slightly chilled or at room temperature. Served warm, it is considered a home remedy for sore throats. Wikipedia