Pierogi or uszka with mushroom & cabbage filling recipe
---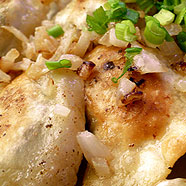 Ingredients in this recipe:
1 kg of the sauerkraut
2-3 cups of dried mushrooms or much more raw white mushrooms from grocery
2 medium-sized onions
oil or butter for frying onion
some salt
some black pepper
8-10 bay leafs
spoonful of breadcrumbs (optional)
takes 1 h
---
Recipe: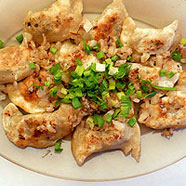 Rinse dried mushrooms with cold water and throw into the pot with hot water. Leave for 15-20 minutes.
Put the pot on the cooker and cook mushrooms, until become soft.
Drain mushrooms off on the colander. Collect water in the second pot.
Throw the sauerkraut into water, in which mushrooms were cooked. Cook it, until become soft.
In the meantime cut mushrooms carefully into small stripes.
Drain the cabbage off on the sieve. You can pour water out. Carefully shred the cabbage into small stripes.
Peel two medium-sized onions and cut into small dices.
Melt some butter or oil on the frying pan.
Throw onion to hot butter / oil and fry about 5 minutes to achieve delicate browning.
Next throw the cabbage and mushrooms. Mix precisely.
Add the salt and grinded black pepper to the taste. Add 8-10 bay leafs. Some Poles add a tablespoon of breadcrumbs, but it is not compulsory and I, personally, have never tried it.
Put a lid on the frying pan and stew about 10 minutes.
Put the filling to the bowl and let it cool off. The filling is ready to go when cooled but you will need to get rid of bay leafs before folding pierogi or uszka.
I hope that you find this mushroom-cabbage pierogi/uszka filling useful. Enjoy your meal! Smacznego! :)
---
See also:
---