Polish pierogi dough recipe (original)
Introductory word: usually we make the pierogi dough without eggs as ingredients. However, in some recipes there are eggs, and indeed, they are used in some Polish households. The truth is that the addition of whole eggs (or just yolks) to the pierogi dough makes it more rigid when cooked. For most people it is not an advantage, so we recommend using the traditional recipe, without eggs. It results in a softer dough, which – despite its delicacy – will not fall apart.
It is also worth mentioning that if you're going to make pierogi dough for sweet pierogi (those filled with fruit or sweetened cheese), you can take hot milk and use it instead of about half of the volume of hot water required. The effect is a matter of taste, so you might like to try both ways. Anyway – smacznego!
By the way, do not hesitate to visit our main articles: Pierogi – probably the most popular Polish food ever and How to make pierogi? Authentic pierogi recipes to find out more tips and tricks about pierogi dough… and pierogi in general.
---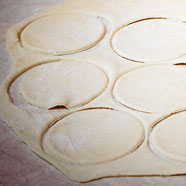 Ingredients in this recipe:
3 cups of wheat flour (all-purpose)
half a teaspoon of salt
0.75 cup of boiling water
0.25 cup of cold water
half a teaspoon of oil
takes 30-40 min — makes ~30 pierogi
Recipe:
Pour 3 cups of wheat flour into the bowl. Pour the flour through a sieve to separate any lumps and in order to aerate the flour. Thanks to the latter, your pierogi dough will be softer and more delicate in flavor. Then add half a teaspoon of salt.
Pour 0.75 of cup of boiling water into the bowl, while vigorously stirring the mixture with a fork or wooden spoon. At this stage, it is normal that lumps of flour will form and surface – crumble them down with the fork. Cover the bowl with a cotton cloth and set aside for about 5 minutes.
After 5 min, add a quarter of a cup of cold water, give it a stir, and crumble down the lumps (if any). Once again cover the pierogi dough with a cotton cloth, but this time set is aside for 15 minutes.
After 15 min, add half a teaspoon of vegetable oil (canola, sunflower or olive oil). Roll up your sleeves – it's time for some work. Knead the pierogi dough until it becomes a smooth and uniform mass. In general, it takes 5 to 10 minutes, and at this stage a pair of men's hands may be quite useful. When finished, the pierogi dough should be homogeneous, stretchy and a bit adhesive.
Now, the dough is ready to prepare pierogi. Roll out the dough on a pastry board (or simply on a table) until you reach the thickness of about one-tenth of an inch (2-3 millimeters). However, before you start rolling it out, you should flour the pastry board. Thanks to that the pierogi dough won't adhere or tear. However, remember that one side of the dough should remain clean. You want it to cling on to itself while folding pierogi.
Cut circles out of the pierogi dough by using a cup. Place the filling in the middle of every circle and fold it to form pierogi.
Collect scraps of pierogi dough, knead again, roll out and repeat steps 5-7.
Having made your pierogi, what is left to be done is to boil them and fry if that's what suits you. Despite of the simplicity of ingredients, some say that the pierogi dough is a fickle thing. I do not have bad experiences. However, if it happens to you to do it wrong from time to time, do not give up. It might require some experience, but everyone can become an expert by trial-and-error. I wish you good luck and hope that you find this pierogi dough recipe useful. Enjoy your meal! Smacznego! :)
See also: