Uszka for the Christmas Eve clear borscht recipe
The following recipe is about uszka with mushroom filling. The Polish cuisine offers two kinds of Christmas Eve uszka: one with mushrooms only and second one with cabbage and mushrooms, which is at least the same popular. I do describe how to make mushroom-cabbage filling here - that supplements the following recipe for uszka.
---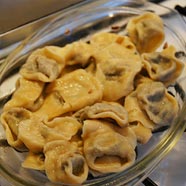 Ingredients in this recipe:
photo by Kinga
2 cups of the wheat flour
some sunflower oil
100 g of dried mushrooms (best is bolete)
2-3 onions
butter or oil for frying onion
1 egg
---
Recipe – at the beginning we prepare filling for Christmas Eve uszka
Prepare 100 g of dried mushrooms, best is boletus (Boletus edulis). In Poland for the production of national dishes such as pierogi, uszka, sauces and traditional mushroom soups those typical 'mushrooms' you probably know (Agaricus) are not used. Please, read my commentary on Polish edible mushrooms and the tradition of the mushroom hunting. Since in many English-speaking countries the access to some species of mushrooms is firmly limited you can boldly use white mushrooms (Agaricus) for your uszka.
Rinse mushrooms with cold water. If you use white mushrooms from grocery go to point 4. If you managed to get traditional dried mushrooms put them into the pot with warm water. Wait 15 minutes and then start heating up. Cook mushrooms, until become soft.
Drain soaked mushrooms off on the colander and wait the moment so that they cool.
In the meantime peel 2 or 3 onions and cut carefully into tiny cubes.
Now cut mushrooms up into very thin slices. Don't grind them, don't crush or tear.
Melt and heat a little portion of butter or oil on a frying pan.
When butter will heat up throw the onion and brown gently under the lid. It should last for about 5 minutes.
Next throw mushrooms chopped up and mix with onion.
Add one egg and mix. Fry mixing constantly.
In the moment, when egg is curdled add salt and pepper. Taste your stuffing and season some more, all the way to taste that satisfies you.
Remove the frying pan from the cooker and let it cool.
After about five minutes, when filling is still hot add one teaspoonful of butter and mix filling precisely.
Uszka dough (quite similar to pierogi dough, though)
Build a heap on the pastry board by sieving two cups of the wheat flour through the sieve.
Add three drops of the sunflower oil.
Pour some warm, boiled water onto the flour. Mix with hands trying to form a dough. Add warm water portion by portion, until you get the dough which is elastic and 'kneadable'. It should not however be too soft.
Knead the dough, until you crumble all pellets, and the color is uniform (this might be difficult and laborious task; it is worthwhile dragging some man to the work ;)
Form one knob from the dough and put it into the bowl. Cover the bowl with the clean cloth and put back on 20 minutes.
After about 20 minutes you can start folding uszka
Take the dough out of the bowl, put on the lightly floured board and roll up most thinly, as you can - the thickness should be 2 to 3 mm.
From such clump cut out the circles (about 5 cm of diameter), with the appropriately selected cup.
We put with a teaspoon a portion of filling on every circle (not so much that 'gluing' dough is not possible, and not so stingily that you can't taste filling eating uszka; this is a matter of experience and by third, fourth uszka you will already know how much filling you can still wrap up with the dough).
Wrap up the filling with the dough in order to form a semicircle. Join together the dough with your fingers, closing the filling inside. This stage is identical to pierogi (with the difference that uszka are smaller).
Now wrap two opposite horns up and join together with fingers forming something like an envelope. It's uszka indeed. It should be little, like a head of a teaspoon.
When uszka are ready we should cook them. At first boil salted water. When water boils, throw uszka one after another.
When uszka will flow to the surface of water cook them one or two minutes more. Drain off on the colander. Hot uszka are usually thrown directly into plates with the clear red borscht, while cooled uszka should be heated up in the pot with the borscht being warmed. Serve about 5 pieces of uszka for 250 ml of clear borscht.
One-time preparing large amounts of uszka and next freezing them in the freezer is a common practice in a lot of Polish families. They can last a few months in it. I hope that you find this uszka recipe useful. Enjoy your meal! Smacznego! :)
---
See also:
---